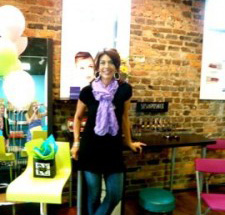 Amy Grigg wants to give her makeup shop a new look — something bigger than just cosmetic changes.
Grigg owns makeup boutique Lavish Apothecary, and this year the Patterson Avenue shop will move into a bigger space in the Shops at Libbie and Grove.
Lavish carries skin care products, makeup, perfume and a few items for men, such as shaving cream and cologne.
Grigg said its been difficult to grow the business in her location which is crunched behind The Shops at 5807.
"In such a small space, we're limited," she said. "We want our own identity. We needed a standalone store."
Grigg this month leased a 1,200-square-foot space on Grove Avenue in the former Coast restaurant, which closed at the end of January.
Jim McVey with Commonwealth Commercial Partners helped her find the space and Susan Jamieson of Bridget Beari Designs will design the new shop.
Lavish isn't the only retailer to pop up in the Westhampton neighborhood lately. Sweet Frog opened last month in the old Cold Stone Creamery space, and Phil's Continental Lounge just reopened on Grove Avenue. Longtime men's clothing store Peter-Blair has also moved to the shopping center at the corner of Libbie and Grove.
Once settled in to the new digs, Grigg plans to expand the services Lavish offers — such as facials and makeup application — to include waxing and massage.
Lavish also hosts two events a month, bringing in national makeup artists, as well as private parties.
"We're designing the space around that," she said. "It's something we didn't know when we started but something that was good for us."
Most of the products are in the $12 to $13 range but can go up to $70 or $80.
"People are spending more than when we first opened," she said. "There's a huge misconception that beauty has to be $200 to $300 to be good. That's false."
Grigg, 50, has lived in Richmond since November 2009 and before that managed retail outlets in Charlotte. She has a master's from Queens University of Charlotte and an English degree from the University of North Carolina at Chapel Hill.
For now, Grigg is focused on getting the new store open, but she said it might not be too long before the store gets another facelift.
"I have goals for three to five years out," she said. "I do believe westward expansion between here and Charlottesville is a place of opportunity."