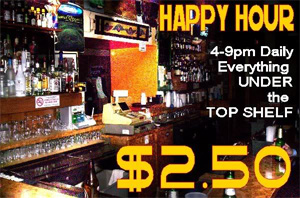 If a Northern Virginia delegate gets his wish, bar patrons won't have to know the secret password to get happy hour specials at pubs across the state anymore. They'll be able to just go online.
Democratic Del. David Englin introduced a bill to the Virginia General Assembly to legalize certain kinds of happy hour advertisements. The proposed bill would allow restaurants and bars to post drink specials on their website or Facebook page. That's currently illegal.
Englin, who represents the Alexandria and Arlington district, said he introduced the bill because Virginia's pubs and drinkers are at a disadvantage compared with other states.
"It strikes me as silly that in this day and age we don't let bars and restaurants use Facebook or their web pages to advertise when they have drink specials," Englin said.
"Virginia is at a competitive disadvantage with D.C. and Maryland," he said. "I thought I'd put it in the bill to level the playing field."
Since 1985, it has been illegal in Virginia to advertise happy hour anywhere but inside an establishment. Restaurants and bars cannot advertise happy hours in newspapers, on their website, on the radio or via social media. They're also not allowed to sell discounted drinks after 9 p.m.
In 2010, the state allowed businesses to put up one sign on their premises to announce that they offer happy hours and the times, but nothing beyond that.
Curtis Coleburn, chief operating officer of Virginia ABC, said the law exists to reduce binge drinking.
"Such promotions encourage excessive consumption," Coleburn said. "Virginia has chosen to address the issue by a combination of regulations limiting the types of specials that may be ordered, such as no multiple drinks or all you can drink for one price."
Jake Crocker, who co-owns Fan bars Lady N'awlins and F.W. Sullivan's, said that if the bill gets passed, it wouldn't change much for him.
"Happy hour has become such an expectation — every establishment has some form of happy hour," he said. "We'll continue our happy hour and promote it a little more, but I don't see it making a huge amount of difference."
Crocker's neighboring bars on West Main Street host happy hours until 7 and 8 p.m. during the week, and he said the main issue is deciphering the laws on happy hours and serving alcohol in general.
"The ABC laws have many gray areas, and those gray areas open up for interpretation," he said. "We're attempting to comply, but it makes it difficult when those laws are not clear."
Crocker added that when Facebook and Twitter came on the scene, it only further muddied the waters.
"It's a little unusual that not only can I not advertise to the general public, but now we have restrictions for our clientele that are going to our page requesting the information about the business."
The proposed bill would include Facebook but not Twitter, email or any type of newsletter.
Mac McCormack, who owns McCormack's Whiskey Grill and McCormack's Irish Pub, doesn't run any specials at his pubs in the Fan and Shockoe Bottom but is equally sour on the law.
"It's such a silly law. I don't know why it was ever made illegal," he said. "They don't stop any other business from advertising. You see advertisements for cheaper jeans and cheaper cars. I don't see a difference."
He said the outdated laws should be updated, and he has even started rallying other bar owners to bring attention to the issue and other ABC regulations.
"I've been talking with other bar owners about getting together to meet with delegates to convince them," he said. "We need to start working together."
Coleburn said the restaurant community is largely divided on the issue.
"While most would like to be able to advertise the fact that they offer drink specials and the times they are offered, many do not want to be able to advertise specific drink specials, not wanting to start a competition on who can offer the cheapest booze," he said.
But that doesn't mean business owners aren't still slipping up. Coleburn said ABC gets several cases each year of businesses that advertise their happy hours illegally. The infraction comes with a penalty that would give anyone a hangover-style headache: a $500 fine and a suspended license.
Even if the bill doesn't get passed, bar patrons still won't be completely in the dark about which places have the cheapest drinks. RVA Specials, a website that lists happy hours at a number of bars downtown, launched last spring.
As of Tuesday, the bill was merged with a similar bill introduced by Republican Dave Albo.