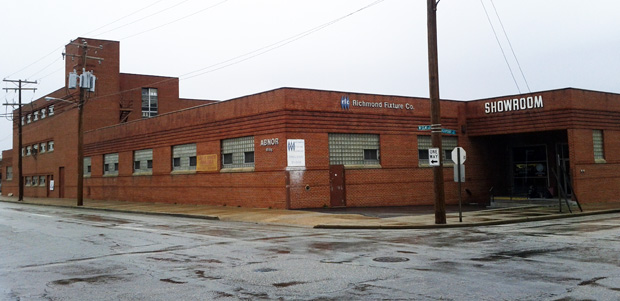 Scott's Addition is about to get more than 100 more apartments on a full city block.
Richmond-based Franklin Development Group wants to turn an old industrial building at 3200 W. Clay St. into 131 units of mostly one- and two-bedroom and apartments. The project will cost between $18 million and $20 million, according to Shelli Brady, architect and president of the firm Alchemy, which is working with the developer.
Walter Parks is the project's architect.
Brady filed the special use permit in March. Developers should see the final plans for the 132,000-square-foot building go before the planning commission and city council within the month, she said.
The building will be composed of about 96,000 square feet of the existing three-story structure and about 36,000 square feet of additions.
The apartment building, which will be financed using state and federal historic tax credits, should be attractive to a diverse group of tenants, Brady said.
"Since most of the units are one- and two-bedroom, we don't expect a lot of families," Brady said. "But we think it will be attractive to urban professionals and to empty-nesters who want to move back into the city."
Because of the size of the building, only 46 units will have natural light coming from exterior windows. Seventy-three units will have skylights and interior windows providing light, and 16 will have indirect natural light from interior windows that open to corridors lit by skylights, according to plans.
The building will also have space for eight more units, but the developers are looking to fill a 5,000-square-foot corner of the building with a restaurant.
The building was constructed in the 1940s for the General Baking Company, a large industrial baker out of New York. The most recent tenant was the Richmond Fixture Company, a kitchen supply company.