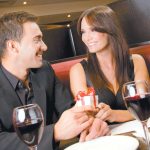 RICHMOND, VA (Feb. 14, 2012) – Valentine's Day. It's the most romantic day of the year. Everywhere we turn, we see hearts and flowers and Cupids. It reminds us to buy a card, send flowers or plan a romantic outing for that special person in our lives.
If we have one, that is.
For some, the approach of Valentine's Day just reminds us how alone we are. "It makes single men and women aware that there's a void in their lives. There's no one to buy a card for or have a romantic dinner with," said Carrie Daichman, who operates It Takes 2, a local, award-winning matchmaker for busy professionals throughout central Virginia.
She's been matching singles of all ages for nearly 20 years. She founded It Takes 2 in 1998, after having been a corporate manager for a franchise dating service. "I saw what worked and what didn't," she said. "It made me realize you can't be franchised and personalized."
That convinced her that there was a real need for a very different kind of introduction service — one that was locally focused and offered hands-on help to single men and women throughout a particular area.
"Franchise dating services gather and compile information, then pass it on — matching you on paper. They can't identify patterns that people repeat, that may hold them back from a successful relationship," Carrie observed. "That's why I meet every single person who walks through the door… because they're all unique, and I treat them that way.
"By getting to know them on a personal level — their dating history, their interests and what they're looking for, I can help them identify things they might overlook so they can  improve their dating skills."
George is a true believer in that approach…now. He had signed up for another service but his daughter, who had been one of Carrie's clients, persuaded him to try It Takes 2.
"I had my doubts at fi rst because It Takes 2 wasn't online," he explained. But the other service "referred women on the East Coast and all the way up to Canada. It didn't work for me. Distance was a problem."
So were the online profiles. He found that sometimes "people build themselves up artificially — it's not always true. They might send a picture that's 10 years old."
George learned that wasn't the case at It Takes 2, when Carrie matched him with Donna, "My partner for life. She hit the nail on the head for me. We hit it off right away."
"It was such a wonderful surprise to me," Donna said. "Never in my wildest dreams did I think I'd find someone this wonderful. We're alike in so many ways — we like to travel, but we're also homebodies and family-oriented."
George and Donna are just one example of how It Takes 2 helps compatible singles fi nd each other. By getting to know her clients personally, Carrie can introduce them to others they're most likely to hit it off with. That offers them a wider choice to avoid the hit-or-miss aspects of dating.
"Work or friends are limited resources for a lot of individuals. Many don't want to go to bars; they don't know if the person they meet is sincere, ready for a serious relationship or compatible," Carrie observed.
"But I'm like the friend with a lot of single friends. And people also feel safer meeting someone who is 'known' and not a stranger. That sets the stage for a positive result — a serious, long-term relationship."
Donna agrees. Because Carrie gets to know her clients so well, "She really gets a pretty good picture of a person, so she's better able to match people, personalities, likes and lifestyles.
"Carrie's record speaks for itself. She's very compassionate, but professional at the same time. She's very perceptive and without that, I don't know how she'd accomplish what she does. I think she practices Cupid psychology."
Given Carrie's record of success matching singles, it's no wonder that more and more men and women are turning to her for help fi nding that special someone. Or that her past clients are quick to refer lonely friends and loved ones to It Takes 2.
So if you're facing a Valentine's Day alone, or have a friend  or loved one who is, talk to Carrie Daichman at It Takes 2.
You'll be glad you did.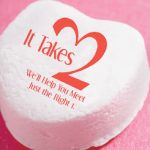 Call for a no-cost consultation. Carrie's motto is "It Takes 2 to help you find just the right one." If you or someone you know is struggling in today's dating scene, call It Takes 2 or give your friend the number.
(804) 967-9911