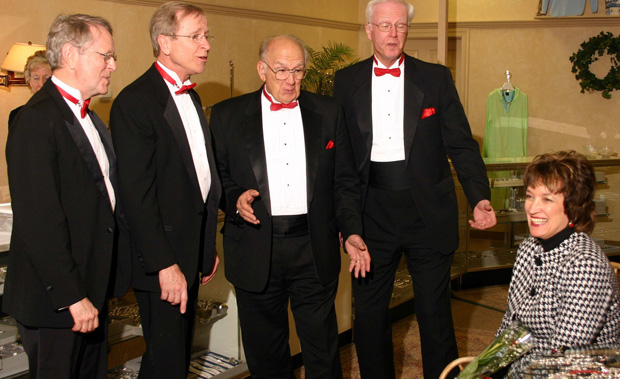 One day a year, Jerry Candrelli is the hardest-working man in Richmond.
Every Valentine's Day, Candrelli and his barbershop quartet, For the Heck Of It, belt out love songs — for a price.
Candrelli, who works the rest of the year as a manager of an electrician company, helps create a different kind of spark by serenade a client's wife or girlfriend at her office or home, even showing up with roses.
"We usually embarrass the living daylights out of them, and a lot of times there's tears," Candrelli said.
"Nine times out of 10, they're tears of joy," he said. "The songs are short and sweet, and they're so moved that the husband or boyfriend hired us."
The quartet is one of about eight groups that make up the Virginians Barbershop Chorus, which sends the singers around in tuxedos to perform singing valentines.
The groups gallivant across town, singing such standards as "Heart of My Heart" and "Let Me Call You Sweetheart."
"We've gone into hospitals and more secure buildings, the government buildings and all kinds of office buildings," he said. "We've sung to people on elevators and in their cubicles."
Virginians usually performs 100 to 200 gigs each year.
The singing valentines usually cost between $60 and $100.
The groups occasionally have to seek out a woman who played hooky from work that day.
"First thing in the morning we've gone into the house with the lady in her curlers and cup of coffee," he said.
Women aren't the only ones getting the special treatment.
"We have sung for a few guys. It's kind of funny," he said. "A few years back we had to sing for a lieutenant in downtown Richmond, and all the guys were sure to give him a real hard time."
The group is a nonprofit, so the singing valentines are a fundraiser. Candrelli said the funds go toward providing music for members, performance halls, suits and rent for the Chamberlayne Baptist church, where the groups perform weekly.
The Virginians Barbershop Chorus is the local chapter for an international singing organization, the Barbershop Harmony Society. Candrelli has performed with the Virginia for 11 years and with For The Heck Of It for about a year.