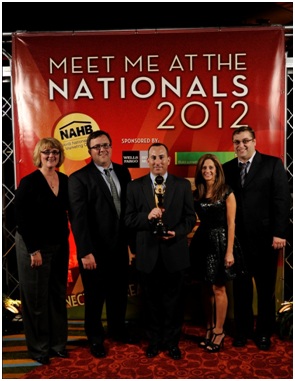 RICHMOND, VA (February 13, 2012) – The National Sales and Marketing Council (NSMC) of the National Association of Home Builders (NAHB) honored Eagle Construction of VA, LLC  at the 2012 National Sales and Marketing Awards, The Nationals?. The ceremony was held on Wednesday, February 8th, 2012 at The Peabody Hotel in Orlando, Florida. The Nationals? honors superior sales and marketing achievements by individual professionals, homebuilders and sales and marketing councils.
Eagle Construction's Home Gallery won the gold award for the Best Design Center in North America. Silver finalists include Design Centers located in Canada, North Carolina and Texas. The Gold Award is determined by some of the industry's finest marketing professionals in a three-day judging process that evaluates the overall theme, function, display concept, creativity and design used in the Design Center.
Located in the heart of West Broad Village, Eagle's new Home Gallery is a place for home buyers to dream, plan and craft their new home to reflect their personality. This 4,000 sq. ft. facility displays the latest trends in appliances, technologies, products and interior design, ranging from modern and simplistic to old-world and ornate to help answer the question, "What's Your Style?". The knowledgeable design consultants guide buyers through a personalized design experience, previewing endless choices with quality products, beautiful finishes and an assortment of sizes, colors, and performance levels. Numerous selections are displayed throughout the gallery in any of the 4 full kitchens, 3 full baths, 3 half baths, laundry room and 5 expansive selections galleries that include countertops and cabinetry, flooring, exterior finishes, media/fireplaces and lighting.
Eagle Construction would like to acknowledge the following for their involvement in the conception, design and creation of Eagle's Award Winning Home Gallery; Jeff Kornblau, Vice President and Chief Operating Officer, Terri Chapman, Director of Customer Care, Jane Meagher, President of Success Strategies and Sharon Ohly, Interior Design Consultant. "The idea of building an Eagle Home Gallery was introduced during a road trip to the National Homebuilders Convention in Orlando last January," says Jeff Kornblau. "Ten months later, that vision became a personalized selections experience for all Eagle homebuyers."
Eagle Construction of VA, LLC is proud to have received the gold award and invites you to visit Eagle's Home Gallery, located at 2240 Old Brick Road, Glen Allen, VA 23060 in West Broad Village.  Open daily from 11am – 6pm. For more information about Eagle Construction of VA, LLC visit www.eagleofva.com.
*From left to right in the picture above: Terri Chapman, Josh Goldschmidt, Jeff Kornblau, Jane Meagher and Chris Mierchuk.
About Eagle Construction of VA, LLC
Founded in 1984, Eagle Construction of VA, LLC has been building the American dream for over 27 years, with diversified real estate experience in Virginia, North and South Carolina.  Since then, the company has sold and delivered over 5,000 homes and constructed over 1,400 apartments.  The Home Building Association of Richmond named Eagle Construction the 2010 Building Company of the Year (builds 76-150 homes annually).  Eagle is a recognized leader in designing active adult homes and communities and has boldly moved forward with green building, becoming the number one builder of EarthCraft Certified homes in the state of Virginia.
###
MEDIA CONTACT:
Maggie Miller
Eagle Construction of VA, LLC  804.741.4663 ext. 228
[email protected]