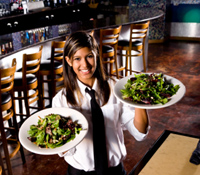 The Grammys might have been all the buzz this weekend, but for many Richmond restauranteurs, a different ceremony took the spotlight.
Richmond Magazine hosted its first Elbys awards ceremony this weekend at the Virginia Historical Society to honor the top restaurants in the area.
Restaurants in Carytown, the Fan, Carver, Church Hill and other parts of Richmond, along with their owners, were nominated in nine categories.
Here are the winners:
Fine Dining Restaurant: Lemaire
Neighborhood Restaurant: The Black Sheep
New Restaurant: The Roosevelt
Wine Program: Secco Wine Bar
Beverage Program: Balliceaux
Restaurant Visionaries: Ren Mefford and Chris Tsui of The Blue Goat, Wild Ginger, Osaka and Sushi-O
Pastry Chef: Josh Gaulin of Acacia mid-town
Rising Culinary Star: Caleb Shriver of Aziza's
Chef of the Year: Dale Reitzer of Acacia mid-town
The award ceremony is named after French chef and Richmonder Paul Elbling. The restaurants were nominated  by 25 industry professionals and food writers.
See all the nominees here.