After serving sweet treats in the West End for 28 years, a local ice cream shop is finally crossing the James River and adding a second location.
Gelati Celesti is expanding to the Stony Point Shopping Center in April.
"We're churning it out Monday through Friday, all day long, and this will give us the ability to make more," owner Steve Rosser said. "We will be able to make about 45 percent more ice cream this year."
Gelati Celesti is in an 800-square-foot shop in the Gold's Gym Plaza shopping center on West Broad Street. All the ice cream is produced in a warehouse on Dabney Road.
Peter Edmonds, a longtime friend of Rosser's, started the business. In 2010, Rosser, 55, purchased Gelati Celesti. Rosser said he started thinking about a second location in May.
"Peter built a wonderful business, but he wasn't interested in growing it," Rosser said. "We agreed it was a great opportunity to grow the business because of our reputation."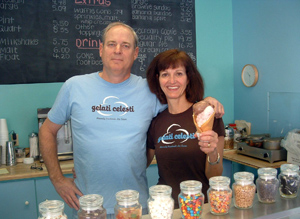 Rosser leased a 1,150-square-foot shop in the Stony Point shopping center across from the Martin's off Huguenot Road. Divaris Real Estate handled the lease negotiations.
Rosser said the new spot should lure in a fresh crop of customers.
"We wanted to focus on the Midlothian/Bon Air area," he said. "Many customers are coming from Chesterfield County, so the new location will be closer for them."
Rosser said the new shop will have seating for 20 and a courtyard to accommodate the rush on hot summer nights.
Rosser said that despite the name, the business makes ice cream and not gelato.
And even with the booming frozen yogurt trend and ice cream chains such as Bruster's, Cold Stone Creamery and Baskin-Robbins in the area, Rosser said business hasn't softened.
"Sales grew 12 percent in 2011, and these first two months we're up 25 percent," he said. "It's been a warm winter, so that's been amazing for us.
"Frozen yogurt is different than ice cream. We appeal to the more adult crowd, so I don't think we've been affected by it."
Rosser also sells his ice cream to 20 restaurants, including the Jefferson, Millie's, Edo's Squid, Black Sheep and the new Goochland restaurant Portico. The ice cream shop also supplies Boyer's Ice Cream on Patterson Avenue.
Jamel Jones, an employee at Boyer's Ice Cream, said that shop carries 36 flavors of Gelati Celesti.
"It's basically our entire inventory," Jones said. "It's the main source of our shop's income. It brings people back for sure."
Rosser said his wholesale accounts have picked up in the past few months, and he hopes to snag 35 new restaurants by the end of the year.
Construction on the new shop will start in a few weeks, and fans can expect to smell the baking of waffle cones by late April.