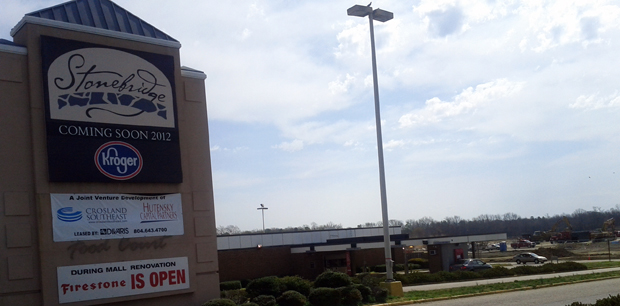 Soon you'll be able to make one stop in Midlothian to pick up a duvet for the guest bedroom and a bottle of ketchup for the kitchen.
The massive Kroger being built at the site of the old Cloverleaf Mall on Midlothian Turnpike will sell furniture and home goods in addition to groceries, competing more directly with Walmart and Target.
The 123,000-square-foot store will be subdivided into 90,000 square feet of groceries and 30,000 square feet for home goods.
The $18 million Kroger Marketplace store, as the concept is being called, will be the first of its kind in the Mid-Atlantic region.
The model has been successful in other states in the South and Midwest, said Kroger Mid-Atlantic spokesman Carl York.
"For people who are watching their dollars and cents, they'll be able to find good deals, and for customers looking to spend a little more, they'll be served as well," York said.
The new store will sell everything from items for the bed and bath to furniture to office supplies, York said.
The Kroger will serve as the anchor tenant for the new Stonebridge shopping center being developed by a North Carolina-based retail developer Crosland Southeast and Hutensky Capital.
Crossland Southeast did not return a call seeking comment. But the firm's website advertises the development as a two-phase, 320,000-square-foot complex with almost 200,000 square feet of additional retail and 350 apartments. Atlanta-based Collins and Arnold is the general contractor for the new store.
Kroger has expanded rapidly in the region since it entered the market in 2000. There are 15 stores in greater Richmond. The company spent about $81 million dollars in the region since Ukrop's sold to Martin's in late 2009, remodeling its Carytown and Willow Lawn stores and building an almost 92,000-square-foot store in Short Pump.
"The investment has worked out great," York said. "And the indication of that is that Kroger continues to spend capital there. You don't spend capital if you're not succeeding."
York said the new store would employ about 300 people and would also feature the largest fueling station in its local portfolio, with nine pumps.
Martin's, the newcomer in the area, has seen a decline in its market share as Kroger's has increased since it came online in 2010. But Jim Scanlon, Martin's regional vice president, told BizSense in February that things were turning around.
"We were pleased with the end-of-the-year numbers from 2011, and the trend this year has been positive each month," he said. "When the [market share] numbers came out, I told my team to keep their heads up, because I had seen the sales trend line."