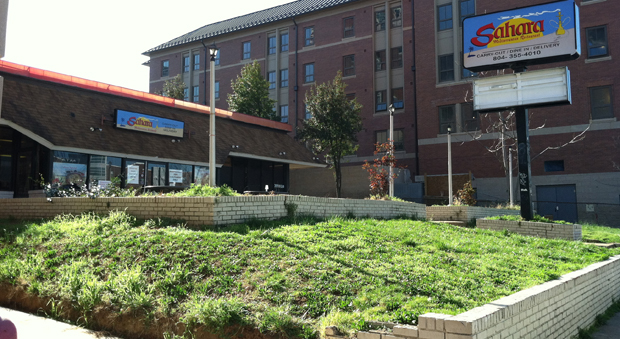 CORRECTION: On March 16, BizSense published a story about a Grace Street restaurant called Sahara that is suing Virginia Commonwealth University for allegedly ruining its business. That story quoted a source we believed to be the owner, who spoke as the owner and gave the name of the owner when asked for his. However, that source was a manager. Below is the corrected story with quotes from the actual owner.
A restaurant and hookah bar near VCU claims the university destroyed its business when it started building a dorm next door and turned the neighborhood into a construction zone that blocked parking and scared off customers.
Sahara is suing Virginia Commonwealth University and building contractor Whiting-Turner for $1 million for blocking its business with two construction projects that engulf the entire block. The restaurant is sandwiched between the projects at 813 W. Grace St.
"Construction trucks have completely taken over the parking areas use by customer and staff," the suit states. "Due to a construction fence installed by the defendants, any and all handicap entrances have been blocked."
Owner Zuhir Idlbi said the restaurant's monthly revenue has plummeted.
"Up until now, we were getting calls asking if we're open," he said.
Idlbi said he had three delivery drivers quit because there wasn't anywhere for them to park to fulfill takeout orders. Construction crews' trucks sat in front of and behind the restaurant.
"I used to have seven employees. Now I only have three a night," Idlbi said. "We used to do 20 to 30 deliveries a night, and we haven't delivered anything for three months."
"There was no access to the alleyway," he said.
Idlbi said the projects also drove away customers who didn't want to have to park blocks away.
"There was no parking anywhere," he said. "Customers aren't going to stay and try to find parking. They're just going to go somewhere else."
"My rent is $4,200," he said. "I can't afford my rent and personal expenses."
Sahara is behind on its bills.
VCU finished a 94,000-square-foot parking garage with a few restaurants on the corner of Grace and Laurel streets and is almost done with a 162,000-square mixed-used student housing building dubbed the "West Grace Housing Project."
Idlbi said construction workers left trash outside his business and broke a few of his outdoor tables.
"I can't afford someone to clean up outside," he said. "It's a dump because I can't fix it. I don't have the money to pay my own bills."
The construction also caused Sahara to get a violation from the health department.
"They blocked my dumpster, so I had no way of getting to it. I had to pile the trash up around it," he said.
Idlbi said he emailed back and forth with VCU for two or three months to resolve the problem.
"They promised me the construction wouldn't affect my business," he said. "They said they would discuss it and call me back, and they never came to fix it."
Idlbi filed a lawsuit in Richmond Circuit Court on Feb. 27, seeking $1 million in actual damages and $350,000 in punitive damages.
Anne Buckley, public relations director for VCU, said the school does not comment on pending litigation. Glen Allen-based Whiting-Turner would not comment on the suit and referred questions to VCU, which has not responded to the lawsuit.
The suit states that VCU built the project intentionally to drive business away from Sahara so it could purchase the property. Idlbi said the university attempted to buy the property from owner Konstantinos Hatzigianndiz, but he refused to sell.
At different times, the building was a Burger King and a bar. Idlbi took over the space in 2005.
Darryl A. Parker, Sahara's attorney, did not return calls by press time.
"He said I have a strong case," Idlbi said.
Idlbi said VCU is planning to build another dorm across the street.
"That will take another 15 months," he said. "I'm not surviving this one."
Despite the strain on his restaurant, Idlbi said that once the dorm is built, more customers would live nearby.
William H. Shewmake, a land use attorney for LeClair Ryan, said that with negligence and trespassing cases, the business owner must prove the construction project caused physical damage.
"To win on a tortious interference with business claim, you can't simply show a business was hurt," Shewmake said. "You normally have to show a legal intent to harm the business and the use of an improper tactic to accomplish that objective."
Shewmake said that to start a construction project in the city of Richmond, a business must only get a building permit and comply with zoning ordinances.
"With public property, you generally don't have to notify the other person or get their agreement," he said. "Just because you have sent a letter asking someone to stop an activity doesn't mean he has to stop."
Shewmake said the school would most likely claim sovereign immunity, in which a state government cannot be sued without their consent.
Idlbi said that if business doesn't pick up, he might have to close the business.
"If I find a job, I'll close," he said. "I don't have a solution."