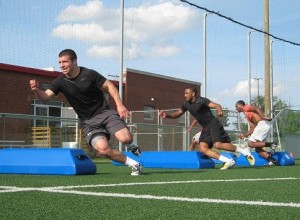 On some days, Jason Elkin is pushing an 11-year-old to sprint through a 20-yard sand pit. Other times, he's encouraging a high school senior straining to flip a 300-pound tire. Or he's coaching a college athlete zipping in and out of cones on artificial turf to beat the winded opponent next to him.
Elkin owns Elkin Sports Performance, a Richmond sports facility that trains athletes using weights, tires and running drills to improve their speed and agility.
Elkin launched ESP three and a half years ago and has six trainers at the facility off Overbrook Road. (It's visible from Interstate 95 near the SCOR soccer bubble.) In December, Elkin added a second location at the Richmond Volleyball Club in Henrico County.
"They needed someone to help train the athletes in their volleyball program, and we wanted to expand," he said.
ESP puts elementary, middle school and high school students through a 90-minute program to learn the proper form for running and weight training.
The weight training and drills increase in intensity depending on the age level. High-schoolers might get to smack a 300-pound tire with a 10-pound sledgehammer.
"With any sport, you're trying to become stronger. Even if the sport is mainly running, you need to have your legs stronger," he said.  "The better the technique, the faster you'll run."
The introductory program for 7- to 10-year-olds teaches kids running form, bodyweight strength training and basic weightlifting.
"We'll have them lift five-pounds dumbbell, medicine balls or sand bells, which are like a [weighted] Frisbee," he said.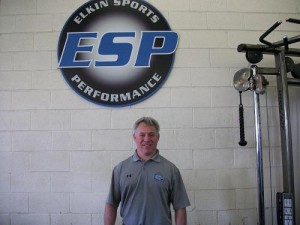 Elkin said athletes pay for memberships that range from three months to a year. The cost varies by age group and length of program, but Elkin said the 7-10 program starts at $100 per month. He said most sessions average out to be $12.50 each.
And ESP isn't the only game in town. A few other businesses, such as Sports Performance Plus, Athletic Republic and U-turn Sports Performance Academy, also train local athletes.
Elkin said about 40 percent of the high school students that train at ESP go on to play a college sport.
The startup has even sent a few athletes to the pros.
"We did an NFL combine a couple years ago for an eight-week period, and Derek Cox, who is now a cornerback for the [Jacksonville] Jaguars, came through our program," he said.
Elkin said Sean Lissemore, a defensive end for the Dallas Cowboys and a William and Mary graduate, also trained in the program two years ago.
Besides students and the rare pro athlete, ESP works with about 50 adults looking to get in better shape.
Jennifer Brown, 44, has been training with a women's group two days a week for the past two months.
"I've seen a big difference in my upper body strength and had less back pain," Brown said. "It's also helped my mommy muffin top."
Brown said the workout has motivated her to do exercises she normally wouldn't do on her own in the gym. And it's no walk in the park.
"It's hard as hell," she said. "Some people have gagged. I've been one of them."
Tim Krout, general manager for Richmond SCOR, said ESP added a different option for members looking for more than just a solo workout.
"When I came to SCOR about five years ago, we were an indoor soccer facility, and the owner's vision was to have a sports campus. ESP has played into that," he said. "We weren't offering speed or agility training before."
Krout said adults that play soccer at SCOR participate in ESP's programs, as do a few of its sports league tenants.
"SCOR baseball, a soccer club, and Sportable, a nonprofit, all train with ESP," he said.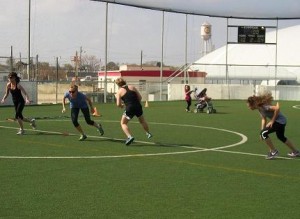 Elkin, 40, caught the fitness bug on his wrestling team at Freeman High School. He attended VCU and while there worked as a strength coach at University of Richmond.
After he graduated, he took a job as the strength and conditioning coach at McCallie School, a private school for boys in Chattanooga, where the idea for his business sparked.
"I found that some of the freshman that came into college, we had to spend a great deal of time with and it put them behind," he said. "I saw an opportunity there to help build kids to lay a proper foundation as they were coming up."
He moved back to Richmond in 2008 and launched ESP a year later.