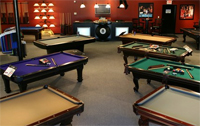 After 44 years on Cutshaw Avenue in Richmond, a gaming supply store is betting a new location farther west will win some new business.
Bill Selden said his C.P. Dean store has been itching to get in a more accessible location for the business, which sells darts, pool tables and other gaming equipment.
"We're isolated downtown, with no other retailers," Selden said. "A lot of our customers live in the suburbs, so we wanted to move to a place where we would be closer to our customers, especially ones in western Chesterfield."
Selden said he started planning to move in the winter.
"We had a good December in sales but had so many customers telling us 'oh, we wish you weren't so far downtown,'" he said.
C.P. Dean owns the new building at 9071 W. Broad St. That building was leased to Appliance Solutions, which closed in December.
"We'll be selling bar stools, bars, entertainment centers and poker tables," Selden added.
"There's a big business in used tables. People call and want to sell their table, or they're downsizing and we buy it back and resell it."