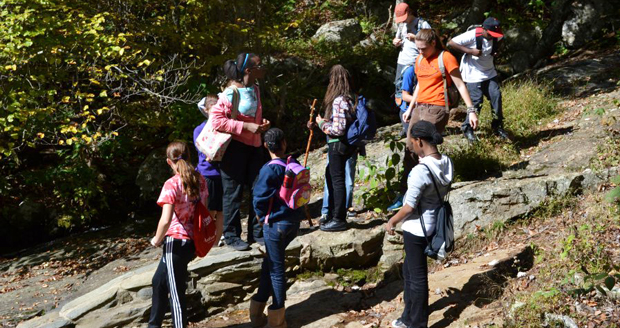 Connie Henshaw has more on her plate than the prom or the next pep rally.
Henshaw, an 18-year-old senior at Godwin High School, also runs a nonprofit that takes middle school students on outdoor adventures.
When she's not working at her brother's delivery business or playing basketball on her high school team, she runs Urban Outdoors.
And she just scored $2,000 at a local women's business awards banquet to grow the operation.
BizSense caught up with Henshaw to find out what it's like being a high school business owner.
Richmond BizSense: Tell us about your startup, Urban Outdoors.
Connie Henshaw: This fall, we started doing trips. I take about 15 seventh-graders in the Southside that go to a bunch of different middle schools. Some go to Boushall, some go to Thompson. We've gone geocaching at Pocahontas State Park, hiking in Shenandoah and crop picking at Shalom Farms, a sustainable farm [in Goochland]. We go once a month, but I see the kids more often than that. We also have nutritional sessions and fun days where we just play games outside like ultimate Frisbee or kickball.
RBS: Who do you work with?
RBS: How did you get the business off the ground?
CH: I started it last summer, and this kind of all began when I went to an Outdoor Nation Summit in Atlanta. The idea was to try to get like-minded outdoors people together to solve huge problems, and what I wanted to focus on was giving youth the opportunity to get outdoors.
I started campaigning and talking to a lot of people and convinced them that my idea was a solid plan. I ended up being one of four who received funding for their ideas. It was a $2,500 grant.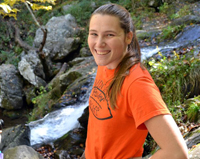 RBS: So you're a nonprofit. How is it funded?
CH: It's all been by grants and fundraising. Our original funding was from the Outdoor Nation Summit, and a few weeks ago I received a $2,000 grant from NAWBO. We needed to raise more money, so I started fundraising around my school and community. We raised $1,300 with our "Camping for a Cause," which will sponsor a backpacking trip to hike 100 miles of the Appalachian Trail this spring.
RBS: What are your expenses?
CH: Most of the costs go to transportation and food. We rent out two 15-passenger vans to pick up the kids. Total expenses vary per trip, but for a hiking trip we spent $400 to $500 on food and transportation. Hopefully I'll be able to put [a recent grant] toward transportation or rental costs for gear.
RBS: Have the kids enjoyed the trips or gotten anything out of it?
CH: I've been volunteering over the past two years, and I noticed the focus level and interest level goes up compared to in the classroom. My favorite part is the reactions. Someone made the comment to me that "Oh, these kids won't like it or won't want to do that," but the fact is I haven't had that reaction all. Every single kid has loved it.
Most of them had never been hiking or been to the mountains or seen a waterfall. Some had never had an apple or a bagel.
RBS: What made you want to start something like this?
CH: My uncle took me hiking when I was 9, and that got me started. My love is the outdoors, and spreading it to others was the next step. Someone might not have parents or other adults to take them to these places. Everyone deserves the opportunity that I had.
RBS: How do you plan to grow it?
CH: I'm trying to plan a final overnight camping trip in the spring for canoeing and a high ropes course. I'm planning on talking to REI for camping trips as a sponsor or to donate gear.
RBS: Do you have plans for college?
CH: I'm going off to Virginia Tech in August, but I'm trying to figure out a way to come back on the weekends and continue the trips or talk to my siblings and see if they're willing to pick up some of it. I kind of want to expand the program to the Virginia Tech area to see if there are people there I can target and take on trips.
RBS: Is it hard juggling the nonprofit and being a student?
CH: Oh, yeah, definitely. I play basketball during the winter, so it takes up a lot of time. I take two AP classes. I have a lot of stuff, but I like to keep busy. I try to balance it out. I work on the weekends — my brother owns Quality Foods, which delivers different kinds of bread to grocery stores, and I help stock shelves. It just pays for gas.
RBS: Do you see Urban Outdoors becoming your career?
CH: I could see having this business full time. I definitely wouldn't look past it as a career path. I still have four years of college, but I grew up volunteering. It's always going to be there. I plan to study environmental studies in college, so I'm going to continue with pursuing an environmental or outdoor career.