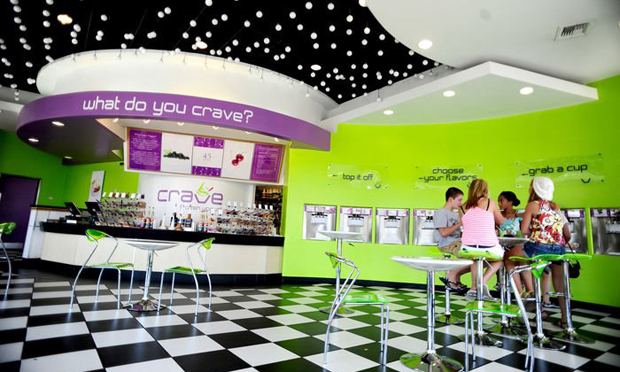 Richmond is in a deep freeze: the kind that comes from a delicious, creamy yogurt treat piled high with fruit and candy.
But with 11 frozen yogurt competitors operating 20 locations in the area, grumblings are getting louder about how long the soft serve machines can keep pumping.
Operators say not to worry, that business is booming and shows no signs of slowing. And revenue at the most lucrative shops, which require just a few employees, can top $1 million a year.
"A few spots in Richmond are pretty heavily served, but there's room for about 100 stores," said Richard Nehrboss, founder of Crave, which will open near VCU within the next month in the former Very Berry on West Broad Street.
"Even if it's a fad, a fad usually has a 10-year window," he said. "And if you look at the industry, ice cream is dropping off 5 to 10 percent a year."
Nehrboss got into the frozen yogurt business last year and has locations in Fredericksburg, Alexandria and Stafford. He also recently inked deals for Crave Frozen Yogurt shops in Texas and Oregon.
Richmond is up to 11 frozen yogurt concepts. Pioneer Sweet Frog has eight locations here, and Bobalicious has three. The rest are one-shop wonders, at least for now, such as Mix It, Beriberry, Zinga, Yapple Yogurt and the most recent addition, Yogurt Express.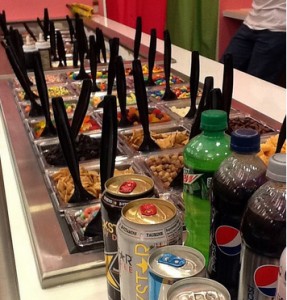 But although operators wave off worries about a bubble, they are hustling to differentiate their stores and win customers.
The setup at each shop is pretty much the same: 15 or 20 flavors of frozen yogurt and seemingly endless topping options. Customers fill their cups with as many flavors and toppings as they'd like and are charged by the ounce. A small cup might cost about $3. Some shops offer additional items, such as coffee, tea, cereal or juice, but that's mostly just window dressing.
Debra Powell-Roberts, owner of the Crave franchise opening at Virginia Center Marketplace in June, said new proprietors would have to work hard to differentiate themselves.
"Selling frozen yogurt is basically the same," Powell-Roberts said. "It's going to be whatever else you can offer and who can build a loyal following."
Roberts plans to name flavors after the Ashland community and other neighborhoods to set her shop apart from the competition.
To some watchers of the fro-yo battle, this all seems a little familiar — and reminiscent of the 1980s and 1990s. (See YouTube clip below of an episode of Seinfeld). The frozen yogurt fad then fell flat as more trendy coffeehouses and ice cream shops such as Ben and Jerry's popped up. It was revived with the emergence of Red Mango out of South Korea in 2002 and when Pinkberry stormed the West Coast in 2005. And the cold war is spreading across the country.
[youtube]http://www.youtube.com/watch?v=NIr6v5LYPdc[/youtube]
Connie Nielsen, senior vice president at Cushman & Wakefield | Thalhimer, said that her firm had secured more than 20 deals with frozen yogurt shops in the past year and a half.
"We have close to 10 concepts running around looking for locations," Nielsen said.
Nielsen said consumers are latching on to frozen yogurt because it's marketed as healthy.
"I think in the '80s, yogurt was just treated as an alternative to ice cream and it wasn't being sold as a healthy treat," she said. "That's why it seems to be hitting home with moms who are letting their kids eat yogurt as opposed to a 400-calorie ice cream cone."
Nielsen said the simple business model and high profit margins are luring the me-too shops out of the woodwork.
"When you go into the new concept stores, they're all self-serve," she said. "You have one, maybe two employees. The overhead is low, and the other guys are definitely hearing the volumes these stores are doing. It's pretty enticing."
But Nielsen said that with the increased competition, revenue per store will start to fall.
Nielsen also said the area would inevitably run out of locations, but she doesn't see the fro-yo bubble bursting anytime soon.
"The ones that are going to survive are the ones that operate it well," she said.
Raven Williams, development director for Sweet Frog, said the growing number of copycats doesn't have her sweating just yet.
"Not to sound braggy, but we haven't seen competitors in the market take away from our business," Williams said. "If you have a business model that's working great, you don't change it for someone else that's coming in."
Williams said Sweet Frog shops' average annual revenue per store ranges from $500,000 to $1.5 million.
"The trick to creating a brand that people can focus on is putting a face to a brand like having the [frog] mascot," she said. "We also have a few children's books in the works, a video game and stuffed frogs coming to the store, and none of our competitors in Richmond are doing that."