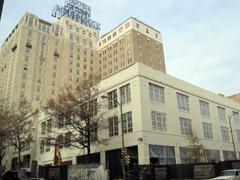 And the award for best supporting actor goes to … wait, wrong awards.
It might not be the Oscars, but some local real estate deals got their moment in the spotlight at the 11th Greater Richmond Association for Commercial Real Estate awards ceremony at the Lewis Ginter Botanical Gardens.
The big winner for best project was the Residences at the John Marshall, the $77 million, 240-apartment rehabilitation of one of Richmond's skyline fixtures.
Other big winners included:
* Deal of the Year for a lease: Capital One at Liberty Plaza II
* Deal of the Year for a sale or acquisition: Lingerfelt Development acquisition of Liberty Property Trust Innsbrook portfolio
Other projects recognized with awards included:
* St. Joseph's Villa, Site Infrastructure Improvements
* The MillWorks at the Green
* Affiliated Dermatologists of Virginia
* Bon Secours St. Francis Watkins Centre
* Cooper Vineyards, tasting room
* Harvester Building
* The Hodges Partnership, building addition
* Prince George County Library, Appomattox Regional Library System
* Queally Hall, Robins School of Business, University of Richmond
* Southland Wine Company Lofts
* The Tommy J. West Club at the Siegel Center, VCU
Honorable mentions included:
* Honorable mention (lease): Dick's Sporting Goods and Hobby Lobby at Hancock Village
* Honorable mention (sale/acquisition): Byrd Center Business Park
Also notable: Williams Mullen real estate attorney Andy Condlin, the MC for the evening, soldiered on despite being handed several malfunctioning microphones during the ceremony.