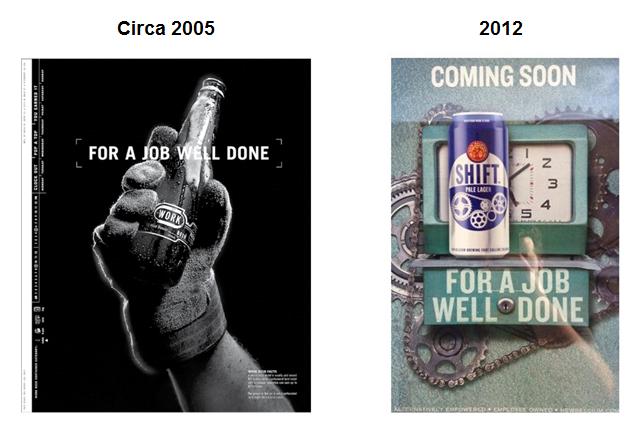 A local ad agency has gone public with its beef over a campaign designed by a Colorado competitor, and the tiff has gone viral.
Work Labs is crying foul over ads rolled out this month by New Belgium Brewing Co., claiming they bear a striking resemblance to a campaign the Monument Avenue firm designed for another beer brand years ago.
The online drama began when Work Labs owner Cabell Harris took to social media after someone sent him the two ads together on Facebook.
"Should we be flattered or mad?," the company asks on its site with side-by-side images from both campaigns.
The ads in question relate to the push New Belgium is making for its new beer called "Shift." The ads were conceived by Denver-based ad agency Cultivator.
Harris said his agency created a campaign in 1998 for its own brand of beer called "Work" with the help of the former Richmond-based Main Street Beer Co. The campaign ran until 2003.
As the picture shows, both ads tout the slogan "For a job well done." Work Lab's earlier ad also has a "Clock out and pop a top" slogan. One of New Belgium's new ads carries the tagline "Clock out and crack open."
"We saw a press release [about the new beer], and it raised concerns," Harris said. "It seems like a coincidence of some sort. But you read comments we're getting from people in the community, and it leaves a question mark in my mind."
New Belgium's campaign launched April 1. Harris said he got a call from New Belgium the day the ad comparison went public.
"I shared my concerns, and they said it was just a coincidence," he said. "The stuff we had wasn't secret. It would be interesting to see if their beer had come out and then Work beer had come out within several years if they would have a problem with it."
Bryan Simpson, spokesperson for New Belgium, said nothing from the new campaign was pulled from Work Lab's ads.
"The 'Shift' campaign is an extension of a long-standing campaign used throughout our portfolio for a long time," Simpson said.
After the ad comparison hit blogs, Simpson said New Belgium powwowed with Cultivator on how to respond.
"We spoke to the agency, and they said the design was done independently on their own, with our direction," he said. "None of us had ever heard of Work Labs up until about two or three weeks ago."
He noted that the second ad in the picture is not associated with the "Shift" campaign.
Cultivator did not respond by press time.
Harris said he isn't going to take legal action — he just wants the public to know that Work Labs was the first to dish out the design.
"We put so much time, energy and money into it," he said. "That's why I have to let people know, hey, I have a brand out here that has these concepts we've had for several years. I want them to be aware of the work we've done and make their own conclusions."
Work beer was sold in Virginia, North Carolina, South Carolina and Florida until Main Street Beer went out of business in 2004.
Work Labs retained the rights to the Work brand and has used it for everything from beer to flags to its own line of apparel and pencils.
Harris said Work Labs has been shopping around for a new brewery to market the brand.
Since the spat went public, it has been picked up online by the Denver Egotist, Media Bistro, BeerPulse.com and Reddit.
Work Labs started out of Los Angeles in 1993 and moved to Richmond, Harris's hometown, two years later.
Harris said Work Labs has about five clients it's working with now, including Miller Lite, Macy's and Exxon. The agency employs a staff of five.
Read more: So a gecko and a duck walk into a bar …