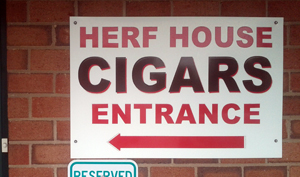 Where there's cigar smoke, there's usually fun. The birth of a child, perhaps, or a big deal that just closed.
Mike Banks hosts the party every day.
Richmond BizSense caught up with Banks, 67, owner of Uncle Mikey's Herf House on West Broad Street, to talk about the changing cigar industry, his business and his own line of cigars.
Richmond BizSense: How long have you been in the cigar business?
Mike Banks: On and off, about 25 years. I retired from the Army in the early '90s and had two stores in Florida. I sold that business and had a non-compete clause that I had to honor, but I was doing a good wholesale business as well.
I opened the store up here about eight years ago.
RBS: Who are the customers that stop by for a smoke?
MB: I've had everyone from doctors and lawyers to police and firefighters.
RBS: How has the industry changed in the past 25 years?
MB: Back when I moved down to Florida, before I retired from the military, cigar stores were starting to fold up because our fathers and grandfathers were beginning to pass away, and the demand for cigars was not as high as the demand for cigarettes. You still had your core smokers, but the stores were starting to dry up.
The boom of the '90s, which was started by Marvin Shanken and Cigar Aficionado Magazine, brought back a new clientele or genre of clientele — it basically saved the industry. Although I'm not a fan of the magazine, I'm in awe of what it accomplished.
After the boom, we lost a lot of cigar smokers who were chasing the very high-end cigars promoted by the magazine. Today, not only is the economy in bad shape, but government regulation has hurt the business by raising the price of cigars.
RBS: How is that?
MB: The SCHIP tax raised the price of cigars by about a dollar. And, of course, with all the anti-smoking regulation, people have either quit on their own accord or have become frustrated with no longer being allowed to smoke everywhere they want to smoke.
RBS: The wholesale business is largely online, right? Is that the main driver of your business?
MB: Wholesale is the biggest part of my business, but it isn't operated through the Internet. Wholesale is either done by communication through the merchant by me on the phone or by the reps for my lines. There is a website that shows my lines, but that comes back through one of my reps or to me. That way we can talk about what lines they sell, what are the sizes they sell the most of, what they should stock.
We don't push like certain other manufacturers do. We don't say you need to spend $1,500 to get 5 percent off. We say, "Here's the special of the month. If you want it, fine. If not, and you want to buy one box, we're happy to be in your store."
RBS: How did you come to sell your own line of cigars?
MB: I was working for the government in Florida, and, after my heart attack in 1992, I didn't have a whole lot to do. I still showed up to work every day, but I was working for a couple of chain cigar stores in management at the same time, basically for something to do. That gave me the impetus to go ahead and open my own store.
The wholesale was born out of that. A man I was buying from wanted to blend his own cigars and didn't know how. So I made the trip to Central America with him, blended a line of cigars for him. Then he came back to me and [I] blended some more for him. We became sort of partners. He doesn't own any of my business, I don't own any of his, but we have our arrangement. We're still working together today.
RBS: How has the Internet changed the business?
MB: I have a contact right here on my desk from a manufacturer who wants me to sign that indicates that I cannot sell their product online. It's only for brick and mortar.
What's happened to every manufacturer who's tried that is that after a while they either go out of business because they are not making enough sales, or they sell it to a sub-distributor. And through the sub-distributor, anyone can buy it and put it online.
The future of every industry is on the Internet. I've told people, "Look. I'm an old geezer. I hardly know how to use a computer. But if you don't like the discounting on the Internet, get out of the business."
RBS: Are Cuban cigars really the best in the world?
MB: I cut my teeth on Cuban cigars. It's all we had growing up. I don't have a passion for them like the people who can't get them seem to.
What would happen if oranges went off the market for nine or 10 years and then all the sudden somebody had a few bushels of oranges? People would go nuts to get an orange. People always want what they can't have.
There are good Cuban cigars, and there are bad Cuban cigars. So to romance the Cuban cigar as if it's the greatest thing you ever smoked in your life — I think it's nonsense. I could match anything coming out of Cuba with something from the Dominican Republic, Honduras or Nicaragua at any time. I could take the band off and dare you to tell me which is which. It's not possible. It can't be done.