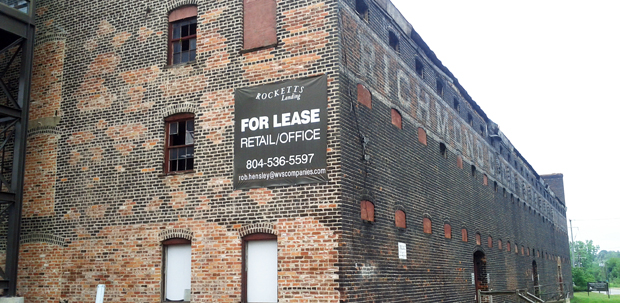 Rocketts Landing is making another big splash.
The mixed-use riverfront development that straddles Henrico County and Richmond will likely soon be the headquarters of one of the biggest law firms in town: BrownGreer.
"We've signed a letter of intent to buy the property, and we're pretty sure it's going to happen," said Orran Brown, a principal at the law firm that bears his name.
The 38,000-square-foot Cedar Works building at Rocketts will need to be renovated, but Brown said he hopes to have 300 employees moved in by March. (The firm recently signed an extension on its lease with Innsbrook through next spring.)
Brown said the firm, which expanded rapidly to process claims related the BP oil spill in the Gulf of Mexico, has been looking at the property for about a year. He said one big concern is that the building might not be big enough to house all his employees.
"I'm not sure what our staffing will be like at that point," he said. "We may still need overflow."
Brown said the major factors in favor of moving to Rocketts are convenient parking, the location and the investment developer WVS has made in the area.
"We've been very impressed with [WVS]," Brown said. "They've been able to get the condos sold. They're investing in the property, and the restaurants are doing real well.
"It's actually in Henrico County, and we wanted to stay near town, but this is the kind of development we wanted to help encourage. Plus we wanted to have a building with some history to it."
Brown was hesitant to discuss the financing and costs because the deal hasn't closed, but he said it would not be a historic tax credit renovation.
Currently, the firm is spread across several locations with a headquarters in Shockoe Bottom near Dock Street.
The firm has been looking to move its headquarters for about five years, Brown said.
WVS principle Richard Souter said landing BrownGreer at Rocketts would be a major milestone for the development and a new phase of the project.
"If you're planning a large mixed-use development, you have to have an initial strategy and have a strategy to build and grow it over time. You're not going to land a big retail anchor tenant and sell 1,000 condos all at once," he said.
Souter said that the office component was the third step in a development that includes condos, offices, restaurants and, starting this summer, apartments.
"We knew when we started [that we needed] to put people in buildings on the river," Souter said. "The biggest thing Richmond needed was rooftops on the river to really show people what was possible. We did that, and then we said 'all right, now we need some amenities.' So we did the restaurants. We now have 20,000 square feet of restaurants at Rockets, and it has become a major dining destination.
"The third leg of that was to initiate a large office strategy. I can't emphasize enough the impact [that] this, combined with the recent signing of Rawls McNelis + Mitchell to occupy 6,000 square feet of the sales building, has on Rocketts Landing."