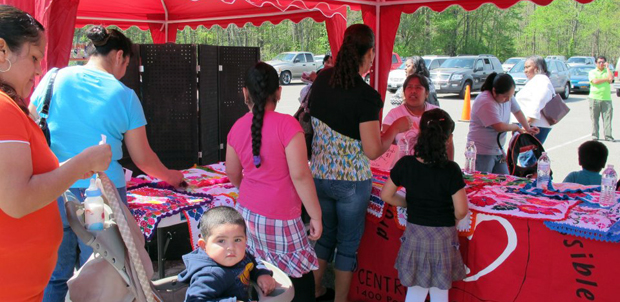 A new kind of farmer's market has set up shop on the Southside.
La Plaza Latino Market opened two weeks ago in the Broad Rock Sports Complex at the corner of Broad Rock Boulevard and Warwick Road.
The market is serving up Latin food, fruit, produce and crafts on Saturdays. But Teddy Elliot, an organizer of the event, said La Plaza won't just be for stuffing your face.
"We'll have dance classes and sports as well," Elliot said.
The Merchants Club of Virginia, a local organization made up of Latino business owners, launched the market Apr. 14. www.clubcmva.com
"We're trying to promote local Latino businesses and encourage entrepreneurship," Elliot said. "This will be a platform for them to get started."
Vendors pay $20 to $40 for a space at the market, and Elliot said she has about 25 vendors, including 10 food trucks, eight fruit stands and a handful of entrepreneurs selling everything from dolls to tapestries.
Guatemalan restaurant El Quetzal on Broad Rock Boulevard and Kenn-Tico, a Cuban bar and grill on West Grace Street, are schlepping food carts to the market.
The market held a Zumba and kickboxing class the past three weekends, and Elliot said the Merchant's Club plans to have free salsa classes for the public.
"It's a great way for people starting their own business to promote themselves," she said.
La Plaza Latino Market has also set up Copa Liberatadores de Richmond, an organization of about 30 to 40 soccer leagues to play at the market.
Sacred Heart Center, a nonprofit in Manchester that works with the Hispanic community, is providing a shuttle to and from the markets.
"We go to the Town and Country apartments and Southwood apartments to make the market available to more people in the community," said Mary Wickham, executive director of Sacred Heart.
Wickham said Sacred Heart also recently opened a kitchen inside the center for business owners to cook food to bring to the market.
Along with the nonprofit, the Enrichmond Foundation, the Storefront for Community Design and SunTrust Bank are helping to fund the venture. The groups have set up "Friends of La Plaza" to accept donations of materials, equipment and money. The city is renting the space to the club to host the market.
Elliot said the Merchant's Club, which launched in July, started planning for the market in December.
"There are a lot of Latino stores, but nothing like this in the area," she said. "We thought this would be the perfect location, the Southside, since there's a large concentration of Latinos in that area."
The market will run through the middle of October.