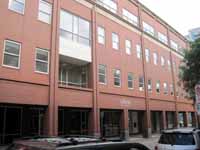 A Shockoe Slip office building and the former headquarters of First Market Bank was foreclosed on last Tuesday.
The 96,000-square-foot Turning Basin building at 111 Virginia St. is now under the care of LNR, which is servicing the securitized loan.
Martin Rust, the managing partner for former owner the Turning Basin LLC, said the office real estate market was to blame.
"After years of a very depressed real estate market and the loss of our anchor tenant, unfortunately it ended in a situation where we had to foreclose," Rust said Friday.
First Market Bank merged with Union Bankshares in February 2010 and vacated 20,000 square feet of the Turning Basin building in November, moving to Three James Center. Union First Market also operated a branch out of Turning Basin that closed this year.
According to the commercial real estate tracking firm Trepp, the Turning Basin LLC owed about $15 million on a $16.1 million commercially backed, non-recourse loan. City records show an assessed value of 15.1 million.
The Turning Basin LLC stopped making payments in August, according to a Trepp report.
Base rent in the building was listed at $18.50 per square foot. A flyer for the building while it was listed with CBRE said the building had 36,200 square feet of vacant space.
A source with close knowledge of the foreclosure said that the building went to auction Tuesday but that there were no bidders other than the servicer for the lender. A limited liability company set up by the servicer now owns the building. Tenants include Pricewaterhouse Coopers, Intelliject and Morton's Steakhouse.
Eric Robison, a broker with Cushman & Wakefield | Thalhimer, said his firm was handling the assignment for the servicer. Before the foreclosure, the property was listed for leasing and management with CBRE.