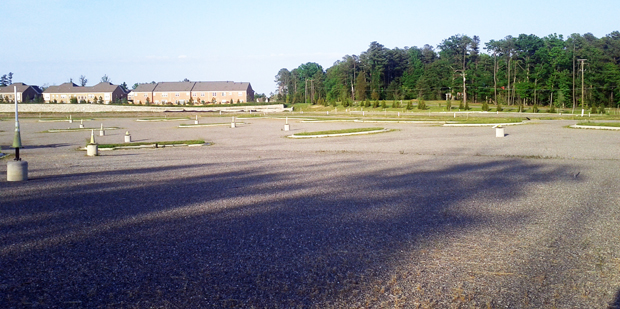 A Glen Allen parcel once destined to be a Ukrop's grocery store is for sale, and site's broker says it's all wrapped up with a bow.
The Shops at Twin Hickory in Glen Allen near Nuckols Road was going to be a 67,000-square-foot Ukrop's grocery store with 23,000 square feet for small shops.
Ukrop's broke ground in 2009 but stopped construction in 2010 when the Richmond-based grocer was sold to Royal Ahold, the parent of Martin's.
The site, listed with S.L. Nusbaum for $9.5 million, has an approved plan of development with Henrico County.
"In representing Ukrop's, I would not allow someone a long due diligence period," said Read Goode, a broker with Nusbaum. "The site, it's all there. It has a fully engineered site plan, the earthwork is done, the parking islands are installed and the stone base for the parking lot is done."
"All a buyer would need to do is install light poles, build the buildings and pour the asphalt, and you're in business."
Goode said that he'd been in contact about the site with the seller, Ukrop's Supermarket's Inc., since it sold its stores in 2010. The parties agreed to put it up for sale last week, he said.
Goode said that clearing the lot would have cost between $250,000 and $300,000 per acre and that he is asking for about $600,000 per acre.
Nathan Shor, who also develops retail projects and owns Shor Real Estate, said he thought the site would get snatched up by Kroger or a similar user because financing is more secure for grocery stores.
"If you look at other big-box stores, Best Buy and Barnes & Noble have been downsizing," Shor said. "Grocery stores are stable and will likely remain stable for several years to come."
The retail market has been battered in recent years with the downturn in the economy. After the first quarter of 2012, vacancy for retail space in the region stood at about 6.5 percent, according to a Thalhimer market report.
There is also about 310,000 square feet of retail construction underway, according to Thalhimer's first-quarter report. That construction is dominated by grocery tenants, including the 125,000-square-foot Stonebridge Kroger project and the 39,000-square-foot Carytown Place anchored by Fresh Market.