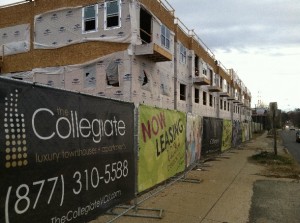 The great thing about building student apartments in Richmond is that even though the developers get older, the customer base stays young and ready to lease new units.
Developers are making big bets on large-scale student apartment projects, banking on Virginia Commonwealth University's undergraduate program to provide enough warm bodies to fill the rooms. So far, the gamble seems poised to pay off: Gilbane's 160-unit project at 8 1/2 Canal was almost completely leased in its first year, and the Rhode Island developer has another 136 units going up in Carver.
And that's small potatoes compared with a 269-unit project called the Collegiate that Indiana firm Trinitas Ventures expects to open in August north of Interstate 64 on Chamberlayne Avenue.
With all these units going up and hundreds more in the planning phase, BizSense caught up with Williams Mullen attorneys Andy Condlin and Jennifer Mullen, who have worked on getting these projects approved, to talk about the trend.
The following is an edited transcript.
Richmond BizSense: What is your background in this student housing boom?
Andy Condlin:  Jennifer and I have worked on three projects so far, and we have two in the works.
RBS: What was the first one?
Jennifer Mullen: 8/12 Canal, and that was three years ago.
RBS: Why do lawyers need to be involved to get a student housing project going?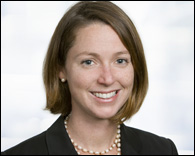 JM:Richmond's code is a little bit different. For most multifamily housing, you need a special-use permit, and student housing has an additional component, which is the ability to have individual leases and locks on each of the bedrooms. You have to get approval for that, so there is a little extra groundwork that has to happen for student housing.
RBS: Why do college students need their own housing? Why can't they live in a single-family home or another apartment building?
AC: These apartments are heavy on amenities that are age appropriate. I'm not sure I'd get a lot of studying done if I were living in one of these in college. They have everything from outdoor grills and foosball tables to theaters.
They are also more geared to urban living. For example, they have more bike racks and 24/7 security.
JM: They also have residence life programs developed to help students acclimate to living on their own. It gives them a bit more of a structured environment coming from living with their parents. They run things from community service projects to social gatherings to get students interacting with their community. It helps students be engaged with their surroundings in an accountable way.
RBS: Obviously you two aren't developers, but what are your clients telling you attracts them to student housing?
AC: I think two things: One is that this has worked in other markets that have called for a unique living environment for students. But I think particularly they are intrigued by the number of students at VCU compared to the number of beds available to students.
The same goes forVirginiaUnionUniversity. They have 1,300 students, and the beds on campus are half that.
RBS: Is some of this driven by neighborhoods trying to get students out of single-family homes?
JM: There has always been the tension and struggle between single-family neighborhoods around campus at VCU and other colleges elsewhere. That has always been the case and will continue to be the case.
But if you can take students from a neighborhood and bring them into something that's a little more structured, that benefits everyone.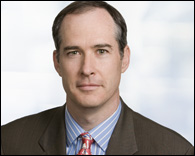 AC: That resonates at the neighborhood meetings we've been in. Some of these neighborhoods have a lot of absentee landlords and rentals.
RBS: Are we getting close to having more new student housing units than the market can handle?
AC: Certainly, while the gap continues between how many beds VCU has and how many students are coming in, there are a lot of new units going up. But I don't think we've hit that saturation point. We're still going to need more residences for students.
And the demand has been there for the ones that have opened up recently. The demand has been phenomenal.
RBS: What are some of the hurdles you have to clear to bring these projects to fruition?
AC: The first is, as Jennifer mentioned, getting approval for individual leases per bedroom and exterior locks on all the bedroom doors.
But in reality, there is always going to be traffic and parking concerns for the neighbors. One thing I've said in the meetings is that there are far fewer students with cars than people think. We have bike racks, for example, that are nearly full. We also have a shuttle service at the apartments. Turns out students don't have cars at the rates people think.
RBS: But there are always density concerns with packing so many students in a neighborhood, right?
AC: The density argument isn't much different with students than with any multifamily project.
In order to get services and amenities into the neighborhoods, you have to get rooftops. The reality isRichmondis an urban area, and it can withstand a lot more units than are here now.