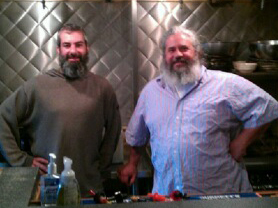 Two of the finest beards on the Richmond food scene want to branch out from the Fan, where both own restaurants.
Manny Mendez of Kuba Kuba (right in photo) and Chris DiLauro of Bacchus (left in photo) are partners in a new restaurant in the works on the Southside.
The new venture doesn't have a name or a menu yet, but it could open this fall on Forest Hill Avenue, Mendez said.
"We joke about calling it 'Kubaccha,'" Mendez said. "We're not just going to do Italian, which is what Chris does at Bacchus, and we're not just going to do Cuban. It will be good, neighborhood food."
The pair signed a lease on the location at 2805 Hathaway Road in March. The restaurant is in the old Stratford Grill, a restaurant that has been near the Stratford Hills Shopping Center since the 1950s.
Mendez said that it was too soon to know what the startup costs would be but that they shouldn't be burdensome because the skeleton of a restaurant was in place.
"This building has good bones," Mendez said. "We don't have to invest in a bar, a hood system, a dish room, sinks — they're all there. We're just going in and giving it a fresh start."
DiLauro, who lives a mile from the shopping center, has thought about starting a restaurant on the Southside for some time, he said.
"I live in that neighborhood," DiLauro said. "We need a good restaurant over there, and we don't really have anything. It's all chain restaurants. People want a good place to eat and drink. It would help solidify the neighborhood."
DiLauro said that when the Stratford Grill closed in January, he set the wheels in motion to open a new restaurant on his own but realized quickly that it wouldn't work.
"I arranged to see the restaurant with the agent and realized it was too much," he said. "So I called Manny and told him I wanted to show him something. I didn't tell him it was a restaurant space."
DiLauro had worked out loose terms with the shopping center, and as he drove Mendez over to the restaurant, he filled him in on his idea.
"We looked at the place, sat down and talked about it for about 15 minutes," he said. "Then he looked at me and said, 'Let's do it.' It was pretty spontaneous."
DiLauro said he saw the restaurant serving the staples: soup, salad, hot and cold sandwiches, burgers, steak and seafood. The pair also wants to make sure the bar is top notch.
"There is just such a void for restaurants out there," he said. "We're trying to fill the gap. We want to be the place where people go when they want to drink a martini after work or take their parents to when they're in town."
DiLauro said the restaurant would be open seven days a week for lunch and dinner and for brunch on weekends.