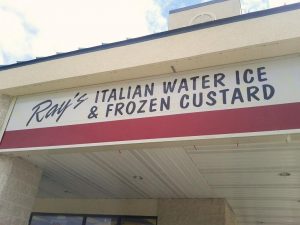 Frozen yogurt is so 2011.
If Rob and Paulette Lamb have anything to do with it, 2012 will be the year of Italian water ice and frozen custard.
The Lambs, Philadelphia transplants and owners of Ray's Italian Water Ice and Frozen Custard, opened their store at 3039 Lauderdale Drive seven years ago to give Richmonders a taste of their home. Since then, they've adapted to local tastes and expanded to another location on West Broad Street.
With lines out the door on busy days at both locations, the business is at a crossroads. They've leased a space in West Broad Village but are deciding whether to make that a third location or moving one of their stores and sticking with two.
With the weather getting warmer, BizSense caught up with the Lambs to talk about business, frozen treats and finding good help.
Below is an edited transcript. Full disclosure: David Larter is a Philadelphia native who grew up on Italian water ice.
Richmond BizSense: Italian ice is a very Philadelphia thing. How did you get the idea to bring it to Richmond?
Rob Lamb: My brother lives down here. When we moved down here, it was August, and it was hot. So I said, "Come on, I'll take everybody out for water ice," and my brother said, "No, you won't." I just assumed it was everywhere.
RBS: So that's how you got the idea to start the business?
RL: That's it. You know when you move from a different city and you have something you know and love there — you want to share it with everyone.
RBS: Was there a big learning curve, teaching Richmonders to love Italian ice?
RL: There was a huge learning curve. A lot of people who come in say they've never heard of Italian ice or frozen custard, so we had to give all the options that a normal ice cream parlor would offer: floats, sundaes, you name it. It's tough because we have a huge menu, but we've learned to manage it.
RBS: How long did it take for the business to be successful and start being profitable?
Paulette Lamb: We were fairly successful the first year, in 2005. We just had to learn that it's different here and people had different expectations.
We have 18 different flavors of ice every day and 18 different flavors of hand-scooped frozen custard, along with the traditional vanilla and chocolate soft custard.
By expanding the menu, we were also able to extend the season. We are only closed about two months out of the year.
RBS: So you took out a lease in West Broad Village. This will be your third location?
PL: It's a third location, but what we're thinking is we'll move the West Broad Street store to West Broad Village. We're coming to the end of our lease at the other store. We're trying to decide that now: Are we going to go for three, or are we going to go for West Broad Village?
We're in a little bit of flux. Ultimately we think it's going to be a terrific location. It will be open next spring. We open every year on March 1.
RBS: Are there challenges to running a seasonal business?
RL: Staffing is a huge problem for us. That's one of the things we have to consider when we're thinking about a third store. Our employees are typically high school and college kids.
PL: One of us is always at one of the stores (their son pictured above with Paulette, works at the stores too), and we have high expectations for customer service. When there are lines out the door, that's fun for us. What I tell my employees is, "Don't look at the line," because if they do they have a tendency to freak out.
Also, because of the seasonality of it, it's hard to find someone who is committed. We've not been successful in finding a manager.
RBS: And so that's one of the things holding up a third location?
PL: Yes. We've developed a certain level of quality, and we don't want to sacrifice that. We also take a lot of pride in what we do.
RL: For example, if someone comes in and wants something special — if I have the ingredients to make it, I'll make it. We want it to always be that way.
RBS: Has the fro-yo craze eaten into your business at all?
PL: It's a different customer. So far, it doesn't seem to be a conflict. Frozen yogurt tends to be for someone seeking something that's a little more healthy, and what we serve is more of a treat. There is room for both.
RBS: So if someone who happened to be from the Philadelphia area meandered into your store and tried the Italian ice, would he be pleased with the product?
PL: I think so.
RL: No, no, no. No false modesty. I make the ice. All the ingredients except the water come from either Philadelphia or New Jersey. I'd put my ice up against any street corner vendor in Philly.