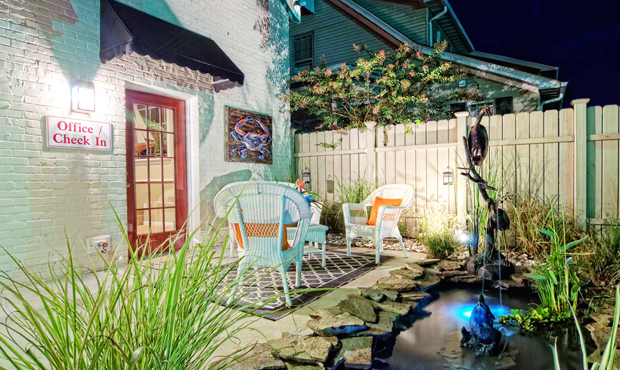 Two Richmond restaurateurs are going coastal.
Harold Lewis and Paul Nelson headed east to open a raw bar and grill in the vacation town of Urbanna, about an hour from Richmond.
Lewis, an 11-year veteran of the Richmond Restaurant Group, and Nelson, who has worked in hospitality for 15 years including at the Berkeley Hotel, hope to have Ostra up and running in June in time to serve the influx of vacationers.
"We're doing upscale food with a casual atmosphere," Lewis said. "It's a T-shirt-and-flip-flops kind of town."
Lewis said the restaurant would have a separate bar area and a 1,000-square-foot patio. Lia Lash, the restaurant's designer, said the interior would be, "clean, simple sophisticated."
"It's not going to have that cheesy look that a lot of oyster bars you see have," she said.
Micheal Sparks Design is working on the branding.
The restaurant is next to a 13-room hotel called the Chesapeake Inn. The hotel owners also own the building that houses Ostra.
One of those owners, John Milby, is an Urbanna native. He said he bought the hotel and the adjacent building in 2009. He and his partners renovated the hotel and launched in August of that year, with a banquet space in Ostra's building.
"Both buildings are about 6,500 square feet," Milby said. "Once we renovated the hotel and did the banquet space, we started looking around for a restaurant. Originally it was a 6,000-square-foot restaurant space, which, in a town of 800, is a little much."
Milby said he invited Lewis to look at the space and he agreed it would be a great space for a restaurant. Ostra will take up about 1,800 square feet plus the patio, which should seat 30.
Milby said there is an additional 1,200 to 1,300 square feet of space he's going to convert into two retail spaces.
Although Urbanna houses plenty of vacation homes and retirees who fly south for the winter, it isn't as popular as it once was, Milby said. But he's convinced that things are picking up and that having a hip new restaurant will help bring Richmonders back to town.
Lewis brought in Midwest-native Bo Stephenson to be the executive chef. Stephenson, who was most recently the sous chef at a restaurant in Lawrence, Kan., said he was going bring a bit of the Kansas to the shore with him.
"I've got to bring a little of the Midwest out — great steak and pork — but the focus is going to be fresh, local seafood," Stephenson said.