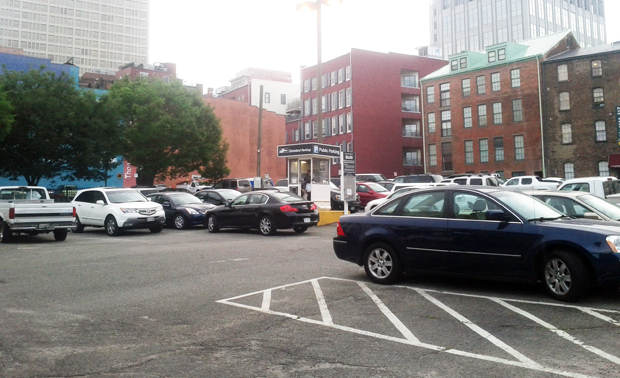 A proposed Shockoe Slip hotel is getting closer to becoming a reality.
Richmond-based hotel owner Apple REIT plans to go before the city council by August to get certain provisions approved to build a 210-room hotel — called the First Freedom Center — on a parking lot on Cary Street, according to a person close to the deal who is not authorized to speak publicly about the matter.
Apple REIT intends to have the hotel open by early 2014.
According to a staff report from the Department of Planning and Development Review dated March 26, the final plans for the hotel were scheduled to be heard by the planning commission June 4. But the source said there had been a delay because of issues surrounding the closing and relocation of Virginia Street, which cuts the parcel in half.
The developers "fully expect to have the plans for the special use permit and the vacating and relocation of Virginia Street at public hearings before City Council's August recess," the source said.
The hotel, at the intersection of 14th and Cary across from Sine Irish Pub, has been talked about since 2008. The land is owned by the First Freedom Center, a locally based nonprofit that claims to promote religious freedom and Jeffersonian ideals.
Apple REIT declined to comment, citing a confidentiality agreement.
Plans call for a U-shaped, 210-room hotel with a courtyard in the center. Plans submitted to the city — prepared by the architecture firm Baskervill — show the building to be about 134,000 square feet.
The building will be two separate Marriott hotel products: A 135-room Courtyard by Marriott and a 75-room Residence Inn, according the city's staff report.
The hotel will likely compete with the Berkeley Hotel, two blocks west on Cary Street, and the Omni Hotel, also on Cary Street. But at least one local business is excited about the future hotel: Sine Irish Pub.
"I think it's going to have a great impact on the neighborhood," said Bob McNulty, general manager at Sine. "With the front door opening on Cary Street, pretty much across the street from me, I'm very happy."