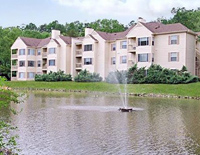 A multifamily REIT expanded its footprint in Richmond, buying the sole Richmond property belonging to a New York real estate holding company.
BHE Acquisitions, a privately held REIT, bought the 284-unit Birchwood at Boulders apartment complex from Pantzer Properties for $28.2 million.
It is the company's third local property: BHE also owns the Honeytree and Broadmoor apartments in Henrico County.
Todd Weinstein of the firm Jones Lang LaSalle — along with managing directors Scott Melnick and Al Cissel — brokered the deal for Pantzer.
"We were contacted late last year by the Pantzers, who said they wanted to sell the properties," Weinstein said. "It went on the market in January, and in about four weeks we had probably 12 to 15 offers."
The property, in the Boulders office park, was about 98 percent occupied and had a positive cash flow when it sold.
"The Pantzers had held on to the property for a decade and decided the timing was right to sell it given the state of the multifamily market in Richmond over the past 12 to 18 months," Weinstein said.
The residents include a mix of downtown commuters, medical staff from nearby CJW Medical Center and other surrounding hospitals, and workers from the office park, Weinstein said.