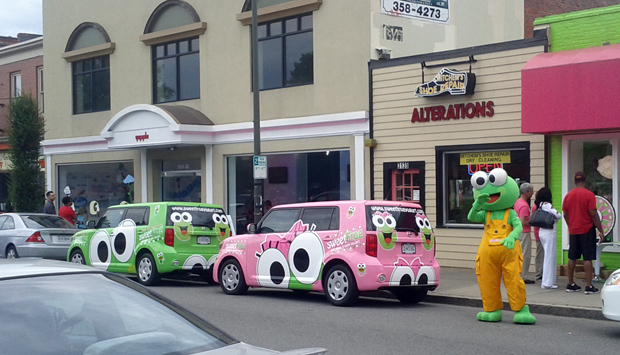 Pennsylvania-based Yapple Yogurt made its Carytown debut Wednesday but got a frosty reception from its next-door neighbor: Sweet Frog.
On Yapple's first day in business on Cary Street, six Sweet Frog employees stood outside and tried to direct pedestrians into their shop. A Sweet Frog mascot danced and pointed to the Sweet Frog store.
Sweet Frog also parked two branded cars on the street in front of Yapple's door.
Andy Lin, owner of Yapple Yogurt, said he expected Sweet Frog to come after him.
"All this," he said, pointing to the Sweet Frog cars, "clever marketing tricks might work a little bit, but at the end of the day customers are going to make their decision based on whose yogurt tastes better. Whatever makes people happier, that's what matters."
This is Yapple's fifth location. A sixth is in the works at Willow Lawn.
The new store cost almost twice as much to build as other locations and was over budget by almost $100,000, Lin said.
"The infrastructure of the building was in worse shape than we thought," Lin said. "It came close to $600,000. It's put a strain on the growth of the company, because for that we could have opened nearly two stores."
The original plan was to occupy 5,000 square feet on two floors, Lin said, but the company had trouble getting permits.
"We gave up on the second floor halfway though," he said. "If we had waited to get the permits, we would be opening next year. The good thing is that we have the option to grow with our customer base."
Lin, 24, said the company financed the store with profits from other locations and loans from family. Lin said that would help the shop withstand Sweet Frog's promotional campaign.
"One of the nice things about being well backed is that Sweet Frog could keep this up for a year, and we'll still be here," he said.
The Yapple store has 13 employees, but Lin said he wants about 16. He is looking for a manager and an assistant manager for the location.
As for the yogurt empire next door — Sweet Frog has more than 60 locations — Lin said he hopes to win over customers with friendly service and tasty yogurt.
"We want people to decide for themselves," he said. "Come in, try the yogurt. If you like my yogurt, great. But if you don't, you're still our friend."