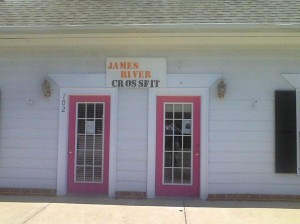 Richmond's CrossFit scene is bulking up as fast as its devotees are.
Henrico County firefighter Scott McClelland will open a new CrossFit location next month called James River CrossFit.
The sweat will start pouring on July 6. McClelland plans to call the inaugural workout "The Funky Flamingo": a hat tip to the business of the same name that formerly occupied McClelland's 2,500-square-foot space on Huguenot Road.
McClelland will lead workouts such as the AMRAP 12, in which customers do as many sets of five pull-ups, 10 pushups and 15 bodyweight squats as they can in 12 minutes.
McClelland moved into the space about a month ago, he said. He is investing $20,000, mostly profits from his construction business MAC5 Construction.
"Basically I've been taking every penny I've made and putting it toward this," he said.
The Richmond area CrossFit market is already pumped up. Jake Rowell, who co-founded CrossFit RVA in 2008, opened a second gym in Colonial Heights last month. West End CrossFit on Cox Road doubled the size of its gym in February.
But Kevin Knight, who opened CrossFit Midlo last year, said demand continues to grow.
"I think people are hungry for it," he said. "It's a refreshing way of working out, and it replicates what you do in real life."
McClelland added that Richmond's CrossFit gyms serve separate geographic areas and that he chose the Huguenot Road location because there was no CrossFit gym within 10 or 15 miles.
He also said his gym isn't built for huge membership numbers.
McClelland hopes to attract 50 members by the end of the gym's first year and is aiming for 120 members after three years in business.
A full-time, unlimited membership at James River CrossFit will cost $130 per person per month, with a 50 percent discount for additional family members. The gym is also offering discounted rates for firefighters, police, EMS workers and military personnel.
McClelland will offer charter memberships to the gym's first few patrons. The deal will include a discounted monthly rate for the duration of the membership and a free T-shirt.
But be ready to sweat through that new shirt, McClelland warns, because James River CrossFit only offers high-intensity, no-nonsense workouts.
"It's not like any other gym where you walk in and it's air conditioned to 70 degrees and there's nice music playing," he said. "When you leave here, you leave with a sense of accomplishment, that you've pushed yourself to the limit."