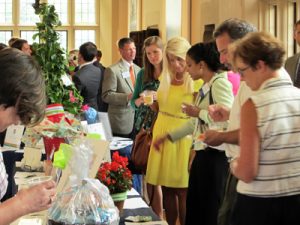 Commercial Real Estate Women Richmond held their annual summer social and fundraiser Thursday night.
The event, held at the Virginia Center of Architecture, is a fundraiser for the Flagler Home at St. Joseph's Villa. Proceeds from a silent auction and raffle sales went to Flager Home. It is also one of CREW's premier networking events, CREW's Community Service Director Karen Frye said.
The event's primary sponsors were the Greater Richmond Association for Commercial Real Estate, Cushman & Wakefield | Thalhimer and Fulton Bank. More than 120 Richmond area businessmen and women attended the social. Check out photos from the event below.