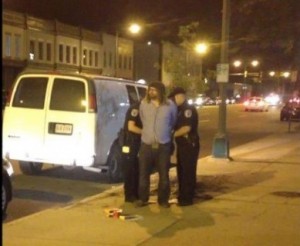 Talk about putting customers first.
In late May, Rand Burgess was arrested while trying to keep patrons of his Broad Street music venue/pub, the Camel, from getting parking tickets. Hands behind his back, he was taken downtown and booked, arrested for obstructing justice.
That was more than two weeks ago, but Burgess is still hot that the police ticketed his customers when he pays more to the City of Richmond in property and food taxes than he makes for a living. And because — despite street signs that prohibit parking late at night — the obscure law hadn't been enforced in four years, he said.
BizSense chatted with Burgess last week about the parking ticket brouhaha and the pub business in Richmond. Below is an edited transcript.
Richmond BizSense: Are you sort of proud of the arrest?
Rand Burgess: Would I do it over again? Absolutely. I don't think what I did was malicious or anything. I was trying to help my customers out, asking for a couple of minutes to allow my customers to remove their cars and whatnot.
RBS: What has the fallout been like?
RB: Well, it brought attention to enforcement of antiquated signs. And there is awareness of signs and a process of getting them removed, and hopefully we expedited removing the signs.
RBS: Are police ticketing now?
RB: They stopped doing it on June 4. I don't know if [was] because of media attention or [our] work toward getting it removed. We've also been telling our customers to park at the Lowe's across the street.
RBS: Do you have a court date?
RB: Wednesday, June 20, at 9 a.m.
RBS: Changing gears here, we've covered a ton of new breweries popping up in Richmond. As a pub owner, do you think the market can sustain more and more local beer?
RB: What the market can sustain is how much people can drink. The Camel has the most Virginia beers on tap in Richmond. We're 100 percent behind the local beer thing. And it's actually getting back to the roots of beer: All beer used to be local until big corporate places bought out smaller places.
We have 28 beers on tap. A lot of the beers are regional. As more Richmond beers come online, we are RVA first, everything else second. We are committed to local art, food, beer and wine.
RBS: How did you start the business?
RB: I bought it when I was 25 and had the former owner finance it to me over three years. It was the Camel — a community spot. It had a snack bar counter but didn't really have a bar. No beer, no kitchen and no commercial refrigeration.
RBS: As owner of a small music venue, do you find it frustrating or threatening that the city will support other music venues with huge grants, such as the Hippodrome, Center Stage and the Landmark?
RB: I think it's kind of weird, but I can't worry about what city is doing. I have to focus on what I'm doing and keep moving forward.
RBS: Do you have a feel for what size crowd a given band will bring in?
RB: Honestly, some of best bands sometimes don't draw as I expect. And some of the worst bands draw surprisingly well.
RBS: Any plans to expand?
RB: We almost took over a spot downtown, but somebody beat us to it. [That would be the Kingdom, formerly Alley Katz.] At the time, what they were asking for rent didn't feel like it was going to be doable. That was also around the time a bunch of shootings were going on down there. That kind of deterred us from that.