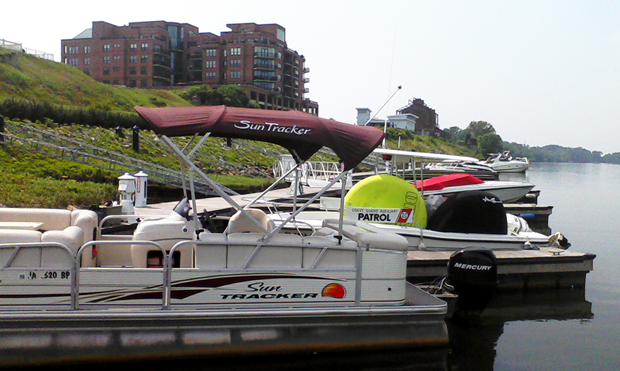 Just in time for summer, a Richmond boat-sharing club has affiliated itself with a bigger boat club so its members can ship out into the Chesapeake Bay, the Gulf of Mexico and even the Atlantic Ocean if they're feeling brave.
BizSense sat down last week with Tory Wiles, the 27-year-old founder of The Mariners Club at Rocketts Landing which is now Carefree Boat Club of Richmond.
Below is an edited transcript.
Richmond BizSense: You have been in business for two years now. How has the club grown since its founding?
Tory Wiles: Since our first year, we've doubled in size each year. With that said, we keep a 10-to-1 member-to-boat ratio, which gives availability for everybody. We now have six boats, and we currently have 62 members. We are at the cap.
We're going to add two boats by next year, so we're going to have a limit of 100 members, and that will be for the lifetime of the club.
RBS: What's new for this summer?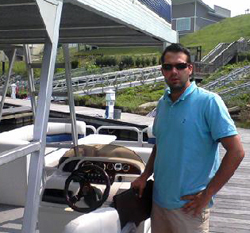 TW: Carefree Boating is the biggest move this year. Richmonders like to travel to Virginia Beach. They like to travel to North Carolina, to Northern Virginia. Now with Carefree, all members in Richmond can boat anywhere there's a Carefree Boat Club. A lot of people have the hassle of trailering a boat. Now all you have to do is travel with your family and go enjoy a weekend in Virginia Beach out on the boat.
RBS: Where else are there Carefree Boat Clubs?
TW: In Virginia, we have Virginia Beach, Hampton, Williamsburg, Stafford and D.C. And then we have boat clubs from New Jersey to Florida to Tennessee, out to Texas as well.
RBS: Will the change affect the cost of membership?
TW: Every summer, we raise membership fees. So the first summer, it was a lot cheaper. As we go up each year in boats and members, the rates go up. Now rates range from $2,000 to $3,500 per year, depending on your contract. We have a one-year, a three-year and a five-year contract. The longer contracts get cheaper dues. We call it a contract, but you can sell your contract, you can trade your contract, you can give it away.
RBS: You started a boating club, offering a high-end, luxury product, in a difficult economic time. Did that affect business?
TW: I was really nervous opening up a boat club in hard times, but what's funny is the economy kind of proved me wrong. People who have boats have payments of $300 to $500 (per month). People want to buy boats, and they have to put payments of $5,000 down. They want to buy $20,000 and $30,000 boats, and it becomes a huge purchase.
Whereas people who are always interested in boating each year, instead of having to go and pay all these maintenance fees and pay to have these boats stored and docked, they can join our club. We kind of see it as a money savings versus spending into a luxury product.
RBS: How did you become interested in boating, and where did you get the idea for the Mariners Club?
TW: I grew up on the water in Virginia Beach, doing lots of fishing and boating, so at an early age I was into boating. Then I came to Richmond, and everyone here goes to the river.
At the entrepreneur school at LSU, they always said, "Do what you have a passion for, do what interests you." So when I came up to Richmond and I saw Rocketts Landing was putting in a marina, I said "Hey, what about a boat club?" Then I started a marina management company as well.
RBS: Where did you learn to manage the boat club?
TW: I was an operations manager for Regions Bank in Louisiana, and I did some financial work with another boat club down in Louisiana, and I learned the ins and outs. I mainly learned the basics from them, and the rest from being on the job at the Mariners Club.
RBS: What sort of challenges have you encountered?
TW: The hardest thing and the craziest thing is learning and doing the maintenance on the boats. We say, "no hassle boating." It's great for the members. It's really hard on us, because we have to keep up the maintenance.
RBS: What do you have in mind for the future?
TW: We're looking to expand out to Tappahannock and Lake Anna probably, in the next year or so, and just improve on informing Richmond residents about this fun kind of recreation we have down here on the James River.
RBS: Do you ever look back and miss the suits and ties that you traded for boat shoes?
TW: I would never change my job for the world. I love coming to work every day. I live at Rocketts, I work at Rocketts, I play at Rocketts. I live in the lifestyle I like to live. I never want to work at a bank again.