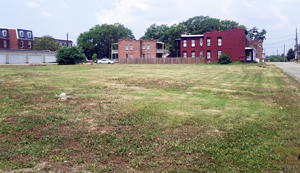 There's no summer slowdown in the local apartment boom.
Veteran developers Ron Stallings of Walker Row and Robin Miller of Miller and Associates are teaming up on a $5.5 million, 54-unit apartment building at 1 W. Jackson St.
The team filed a plan of development with the city June 6, meaning that they will not have to go through the lengthy special-use permit process.
Chris Blake, who is managing the project for Stallings and Miller, said that the developers wanted to start construction on the 40,000-square-foot building this year.
"We're hoping to get started this fall, to be breaking ground in August or September," Blake said. "We want to be finished by next spring."
Blake said the three-story building would be a mix of studio and one-bedroom apartments. Plans also call for a small commercial space on the corner, but Blake said that that detail hadn't been finalized and that the building's numbers work without having a tenant lined up when the building is finished.
Miller and Stallings previously teamed up on the 41-unit building at 701 St. James St., which is across the street. Blake said that success spurred them to move forward.
"701 St. James was leased up very quickly," he said. "We were close to 95 percent occupancy within 40 days."
Blake said rents in the new building would run from $850 to $1,000 per month.
Horizon Construction Management will be the general contractor. Apex Design is the architect, and Monroe Properties will handle the leasing.
Jackson Commons Partnership LLC, Miller and Stallings's company, owns both the land and the vacant lot across the street. Blake said the developers were in the early planning phase for a row of townhouses on the land.

View Larger Map