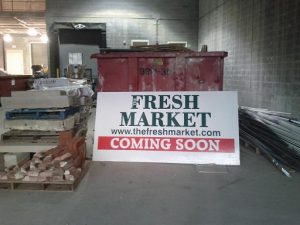 Despite being conceived amid plenty of controversy, Carytown Place will soon be a reality.
At least three national retailers will make their debut at the 42,000-square-foot development beginning in September.
Connie Jordan Nielsen, a Cushman & Wakefield | Thalhimer broker who is in charge of leasing the retail space, said Fresh Market is aiming for a Sept. 19 opening and that Petco and Panera are looking to open around the same time.
Nielsen also said two more leases are likely to close on the last remaining spaces in the development soon. Nielsen would not say who the new tenants are because the deals had not been signed.
Still, she said, finding tenants wasn't easy because the cost of development drove up the rent.
"The timing was good, but it's the most expensive project in the area," she said. "The rent is easily twice what it is anywhere else in Carytown. People were saying I was going to put Walmart and Dollar General there, but I told them not to worry, because they wouldn't pay the rent prices."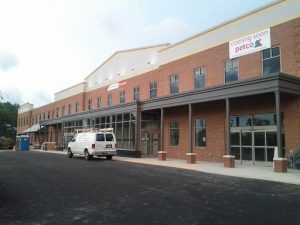 Carytown Place's developer, Maryland Financial Realty, took some heat when it announced plans to convert the old Verizon office building at Nansemond Street and Ellwood Avenue to a grocery-anchored shopping center. Elwood Thompson's owner Rick Hood and others spearheaded an effort to stop the development, forming the group Don't Big Box Carytown.
Nielsen said she thought the addition of national retailers is good for Carytown and that it would increase foot traffic to the other stores in the district. And Raul Cantu, president of the Carytown Merchants Association and owner of Nacho Mama's, said he agreed.
"We had concerns at first about bringing big-box retailers to Carytown," Cantu said. "But as things have moved forward, we've decided to embrace it. We think the addition will attract people who otherwise would have gone to the West End or Short Pump to Carytown instead."
Cantu said he didn't think the new stores would directly compete with the locally owned businesses.
"I don't think it's necessarily the same customer," he said. "I think Carytown has an established customer base and that the relationship that our customers have with the store owners is something that's just not the same in a corporate store. The customers who were otherwise going to the West End were probably not coming to Carytown anyway. I think they can integrate well together and bring even better value to the commercial properties in the area as well."
But Scott Dickens, who owned the Carytown store Glass and Powder and is currently the head of Rocket Pop Media, said he didn't buy the argument that the development would bring more foot traffic to Carytown.
"I think the whole premise that people are going to walk across the street [from the shopping center] to go to Carytown is somewhat illogical," said Dickens. "A grocery store might increase foot traffic in a shopping center, but it's a destination. I don't think you can count on a grocery store to anchor nine blocks of a retail strip."