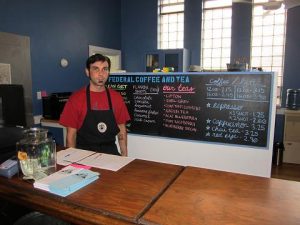 A local entrepreneur has traded in clip pedals and chain grease for coffee beans and tea leaves.
Noah Cleveland, a first-time restaurateur and former custom bike maker, last week opened the Federal Coffee and Tea at 616 E. Franklin St.
It's an idea Cleveland has been tossing around for about eight years now, and he has big plans for his 1,444-square-foot shop.
"This space needed stuff to be a little bigger, a little more epic," Cleveland said.
Since moving in about seven months ago, Cleveland has put in between $50,000 and $60,000 to get the shop up and running. The upgrades, which Cleveland financed out of pocket, included a new custom light fixture and an oversized sofa and coffee table, in keeping with the make-everything-a-little-bigger theme.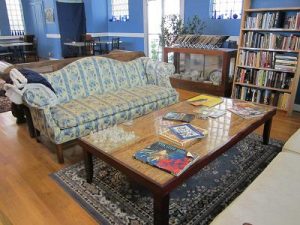 The coffee shop takes its name from Franklin Federal Savings and Loan, the bank that occupied the building in the 1940s and '50s and whose initials are etched in the sidewalk at the shop's entrance. Cleveland also liked the double entendre of feeding customers at "the Fed."
The menu features breakfast sandwiches and bagels for the morning with salads and sandwiches at lunchtime.
Cleveland, a DJ and techno music fan, has named his menu items after musicians, including a hard-boiled-egg-and-bacon sandwich dubbed the Norman Cook, the given name of famed DJ and producer Fatboy Slim.
Cleveland started thinking seriously about the coffee shop about two years ago, after he was involved in a car accident. His ensuing insurance settlement was "substantial, but not enough" to get Cleveland back on his feet, he said.
It was then that Cleveland decided he would need a new job, because custom bikes weren't selling.
"There's not much money in the custom mail-order bike business," Cleveland said.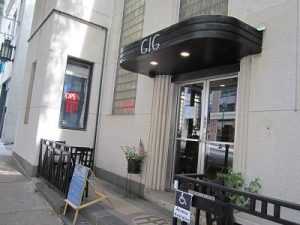 Cleveland liked the Franklin Street location because of its size and windows, which he said light the room while keeping out some of the more unsightly features of the city.
"Generally you'd look out the window and see a nasty alley or a parking lot," he said.
Cleveland hopes to open a second coffee shop within the next five years. He has not settled on where he'd like that to be, but he mentioned Denver, Raleigh, N.C., and a second Richmond spot as possible locations.
For now, there's still work to be done at the Fed, where, in addition to beverages and sandwiches, customers can expect a mix of down tempo R&B, jazz and techno music. That is, as soon as Cleveland can settle on a few tunes.
"I haven't made the playlists for my iPod yet," Cleveland said.