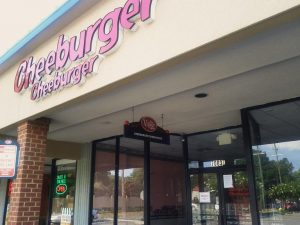 There will be no more one-pound burger eating challenges at the Village Shopping Center in the near future.
Cheeburger Cheeburger last weekend closed its location at 7003-A Three Chopt Road after about two years in business. The burger joint opened in 2009, replacing Smoothie King in the space.
All the furniture has been removed, as well as much of the kitchen equipment. The '50s-diner-style restaurant has made a name for itself by offering a culinary challenge: If you could eat a one-pound burger, you got your mug plastered on their wall. (If you've defeated the burger, you'll be glad to know that, for now, the photos are still up.)
Cheeburger Cheeburger also has locations in Glen Allen and Midlothian, if you feel the need to take the challenge.
A representative for Regency Centers, which runs Village Shopping Center, was out of town and could not comment on the vacancy by press time.