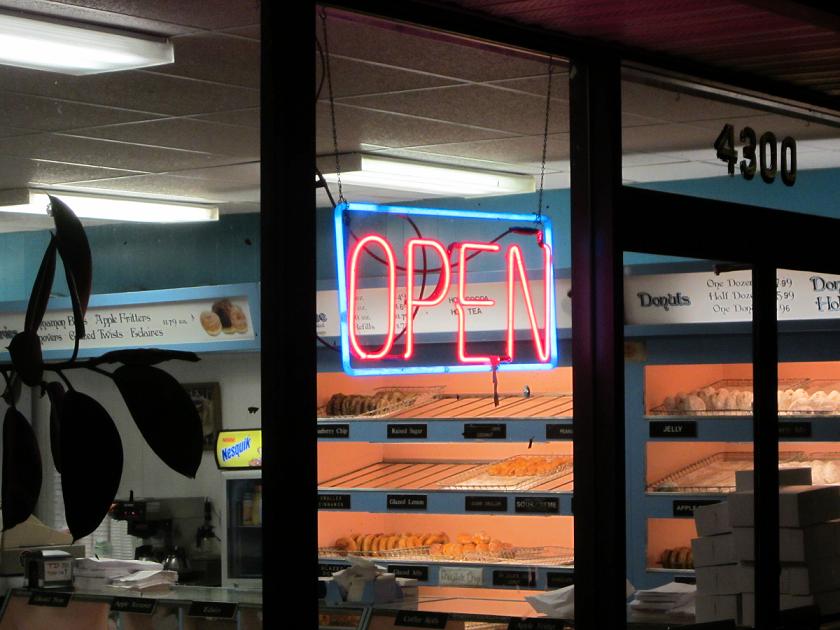 Eastern Henrico is a ghost town in the wee hours of the morning. But at Country Style Donuts on Williamsburg Road, a neon "Open" sign burns 24 hours a day, six days a week, coaxing the shop's loyal patrons to stop in.
Keith Isaac and Hassan Chaaban put out the day's first doughnuts at 1:30 a.m. Less than 30 minutes later, longtime East Ender Devon Cook walked through the door.
"The glazed just come out?" he asked as he walked to the counter.
Cook, a Norfolk State University student, has been coming to Country Style long enough to know the schedule. And the glazed doughnuts — Cook's favorite and Country Style's most popular — are always ready first.
Over the next four hours, Isaac and Chaaban will add batches of Boston Cream, Apple-N-Spice, Blueberry Jelly and the rest of Country Style's 38 varieties to the shelf, just in time for the regular crowd to start rolling in at about 6 a.m.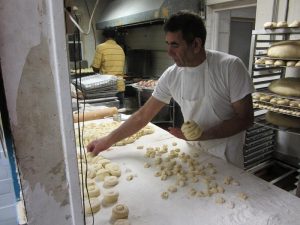 It's the beginning of another day at Eastern Henrico's old-timey, homemade doughnut shop. Country Style, which opened in 1968, sells about 200 pounds of pastries each day to a legion of morning regulars, airport travelers and roaming late-nighters, said co-owner Wafaa Nassereddine.
Wafaa's husband, Steve Nassereddine, emigrated from Lebanon when at 18. He settled in Richmond and worked at Dunkin' Donuts. The Nassereddines later co-owned Golden Donuts on Main Street.
In 1984, after their lease ran out and Golden Donuts closed, the Nassereddines purchased Country Style. At the time, doughnuts cost 49 cents, and the Nassereddines' son Merwan was 5 years old.
Merwan, now 33, said little has changed since his family took over.
They painted the trim a lighter blue, added some seating and designed the shop's menu signs. But Country Style still uses the same homemade recipes and serves the same loyal patrons.
"You don't see people making homemade doughnuts," he said. "Anywhere you go, they're tiny and air-filled."
Longtime employee Mary Lee Burnette said the store's morning crowd is a tightknit bunch.
"All these people have been coming in here for many years," she said. "It's like a small hometown. Everybody knows everybody."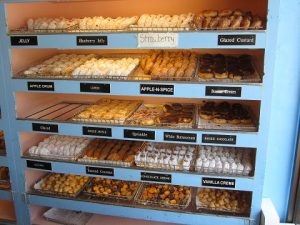 That loyalty has helped Country Style spread to the Fan, where its doughnuts can be found at Lamplighter Coffee. And a second Country Style location might be in the works. Merwan said his brother, Nader Nassereddine, has been considering going into a second store for about six months now. He mentioned the West End and Southside as possible locations.
Country Style sees its biggest rush in the morning, starting about 6 a.m., Merwan said. Business slows down a bit during in the late morning hours before lunch, but the early evening hours bring the crowds back.
At 10 p.m., Isaac and Chabaan come back in. They cook through the night at a mostly empty shop.
They'll serve a few late night passers-by like Cook or Johnathan Fleming, a bartender who occasionally drives from his Jackson Ward home after work.
Every Tuesday morning, Burnette said, the same customer shows up at midnight. He'll sit at the Country Style bar until Isaac or Chabaan carry the first batch of glazed doughnuts out, buy the first few Country Style doughnuts of the week and take off – until next Tuesday.