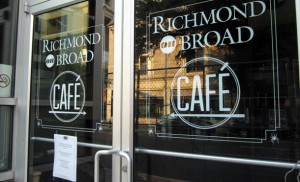 The University of Richmond is going to try its hand at running a public restaurant downtown.
On Sept. 10, the school plans to open Richmond on Broad Cafe, a breakfast-and-lunch spot on the bottom floor of the school's building at 626 E. Broad St.
Dee Hardy, head of dining services at UR, said the restaurant is part of the school's effort to help revitalize downtown.
"There's a need in that part of town for something like this, and I think we fill that niche," Hardy said.
The restaurant, which is across from the Miller & Rhoads condo and hotel project, will feature baked goods, sandwiches and salads.
Hardy said the restaurant would sell traditional sandwiches during breakfast — think ham, egg and cheese — as well as some more inventive items such as a Korean barbecue beef and egg wrap and a turkey pastrami sandwich.
Most items will cost between $4 and $9, Hardy said.
"We wanted to keep it to under a $10 lunch ticket," she said.
The space is about 2,000 square feet, which cost the school about $275,000 to renovate, she said, not including additional funds the school spent to upgrade the first floor of the building.
Hardy said the restaurant would be a good way to feed UR students downtown.
"Students will be able to use their dining dollars and meal swipes at the restaurant, so they'll have that option when they are off campus," Hardy said.
The private university runs a pro-bono and family law clinic at its downtown building as well as an arts and family education program.
Hardy said she expects to draw customers from the local government offices: City Hall is two blocks away, and the federal courthouse is one block away.
"We brought in a consultant, and they found that there were about 5,000 customers within three blocks," she said. "And obviously that gets a lot bigger as you spread out to five blocks and eight blocks."
Hardy said there are not a lot of options like Richmond on Broad in the area.
"There are some great food carts around this area," she said. "So they have that market covered. There are also some great sit-down restaurants in the area, so that area is covered. I think there is a need for a place where you can come by in the morning and grab your lunch along with a pastry and coffee."
You can read more about the restaurant in a Q&A with chef Matt Lee posted on UR's website.