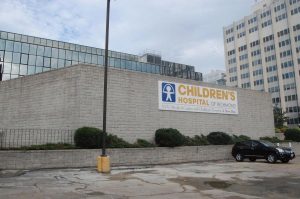 One of the biggest downtown construction projects in recent memory is set to begin.
The Children's Hospital of Richmond at VCU will break ground Monday on a $168 million, 640,000-square-foot Children's Pavilion near the Virginia Commonwealth University Medical Center.
All pediatric services — from operations to X-rays — will move into the new building at 11th and Broad Streets, said hospital spokeswoman Shira Cantor.
"The way it's set up now, if a child needs three different procedures done, they might have to spread out over three different buildings," Cantor said. "This new building was created and designed specifically for children."
The facility will contain 72 exam rooms, two operating rooms and areas for diagnostic testing and imaging. An attached parking garage with more than 600 spaces is also planned. Cantor said the construction timeline is still tentative, but the building is expected to be ready by 2015.
The development will eventually replace the existing Children's Pavilion, located about a block away at 1001 East Marshall St. Cantor said the university has not decided the fate of the current pavilion.
"It could remain a mixed-use facility for a while," she said. "There may be a second or third phase to this project that would involve the existing structure.
Skanska is handling the construction on the project. HKS is the architect.
The university will host a groundbreaking ceremony Monday afternoon at 1001 East Broad St., the site of the new pavilion.