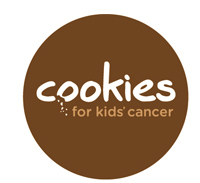 Richmond, Va. (Sept. 8, 2012) – Want a sweet way to strike back at pediatric cancer? Join Richmonders on Sept. 8 for the "3rd Annual City-Wide Cookies for Kids' Cancer Bake Sale." Proceeds benefit the national nonprofit founded by former Richmonder Gretchen Holt Witt that supports research for new and improved therapies for pediatric cancers. Through local bake sales, Cookies for Kids' Cancer provides the inspiration and support for individuals, communities and businesses to help fight pediatric cancer together.
Last year, Richmond's bake sales raised more the $31,000 for the organization – and organizers are determined to do it again. For 2013, hundreds of adult and youth volunteers, along with scores of local businesses, including the Carytown Merchants Association, CRT/tanaka, The Hodges Partnership and WINN Transportation will join forces to mount and promote bake sales.
Approximately 30 bake sales in the Richmond metro area will be powered by the donation of 20,000 frozen gourmet cookies from Jacqueline's Gourmet Cookies in Salem, Mass. Those cookies will be baked and packaged locally by Ashland-based Daystar Desserts. "Helping others is part of my personal life and I always wanted to make it part of my business," said John Fernandez, CEO of Daystar Desserts. "This opportunity is a perfect way for us to do that."
To find the closest bake sale, simply visit www.cookiesforkidscancer.org and click on "Events."
Saks Fifth Avenue Richmond gives back
Mention "Cookies for Kids' Cancer" at the Saks Fifth Avenue in Stony Point Fashion Park during a two-day period – Friday, September 7 and Saturday, September 8 – and the retailer will donate 10 percent of each sale to the cause. "We are honored to partner with this incredible organization to aid the awareness and funding efforts for pediatric cancer", said Cheryl Slokker, Marketing Director, Saks Fifth Avenue Richmond.
Friday, September 7, Downtown Mobile Bake Sale
To raise additional funds, Cookies for Kids' Cancer's only "mobile bake sale" – a trolley donated by WINN Transportation– also will sell cookies downtown on Friday, September 7 from 11:00 a.m. until 3 p.m. at 12th and Main Streets at the Bank of America Plaza. Cash, check and credit card donations accepted.
Carytown an anchor location
Those wishing to support the cause can't go wrong by heading to Carytown on September 8. Richmond's "Mile of Style" will once again serve as the anchor location for the Richmond sale. Bake sales will be held from 10 a.m. and 4 p.m. at Kroger, Ellwood Thompson, Dogma, Need Supply Company, World of Mirth and a "drive-thru bake sale" at Dixie Donuts, across from the Byrd Theatre
About Cookies for Kids' Cancer
Cookies for Kids' Cancer was founded by parents inspired by their son's fight against cancer. Today pediatric cancer remains the number one disease killer of children in the United States, due in large part to a lack of funding for research into new and improved therapies. Through the concept of local bake sales and online cookie sales, Cookies for Kids' Cancer inspires individuals, organizations, and businesses to join in the fight against pediatric cancer by raising the funds and awareness necessary to change the facts of pediatric cancer and provide more families with the hope they deserve. Cookies for Kids' Cancer grants funds raised to leading pediatric cancer research facilities including Children's Hospital of Philadelphia, Texas Children's Cancer Center, Memorial Sloan-Kettering Cancer Center, St. Jude Children's Research Hospital and Dana Farber Cancer Center. For more information, visit www.cookiesforkidscancer.org. Follow on Facebook at www.facebook.com/cookiesforkidscancer and Twitter www.twitter.com/cookies4kids.
FOR IMMEDIATE RELEASE
Cameron McPherson
804-788-6891
[email protected]