Jason Lefton likes secrets.
To mark the arrival of his company, Big Secret, in Jackson Ward, he employed a bit of mystery.
For weeks in advance of the two-year-old company's move to the neighborhood, passersby saw a mysterious message on the storefront window near the intersection of Adams and Broad streets: "Dear Jackson Ward, We'll see you soon. Love, Big Secret."
Big Secret, which uses a laser to etch designs into everything from wood to chocolate to cheese, recently made a big investment in a new laser and moved from its startup digs on North Boulevard to 308 N. Adams St.
Lefton started Big Secret in 2010 after shifting focus from his website design company, and the business has taken off.
A 32-year-old graduate of George Mason University, Lefton sat down with BizSense to talk about the new shop.
Richmond BizSense: What's the Big Secret?
Jason Lefton: We work with art directors and companies to make art, toys and fun stuff out of a wide variety of materials. The laser we use can cut materials to an accuracy of about 1/200th of an inch in thickness, and we can work with materials up to 12 inches tall. We can use wood, paper, acrylic, fabric, chocolate, cheese. It's an almost unlimited playground.
RBS: Why did you name the company Big Secret?
JL: Because I like secrets. I like keeping things a secret until they are ready to be seen by the public at just the right moment. Plus it's fun, and this is supposed to be a fun company, so it worked. When we send out newsletters, it's a Big Secret newsletter. Our website is BigSecretWebsite.com. Our Twitter is @BigSecretTweets. So we get a lot of mileage from it, is what I'm saying.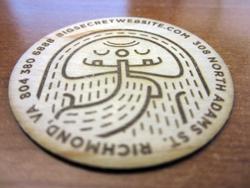 RBS: How did you get involved with lasers?
JL: The first time I used one was when I laser-etched my MacBook Pro. I felt there was a lot of potential for a business that combined creative laser art with technology. So I took a risk and started a business.
RBS: Why the move to Jackson Ward?
JL: We started in October 2010 out of a very small, one-room office on North Boulevard. We've outgrown the space. I have one full-time employee now and a rotating pool of interns, so fitting three people, the laser and the desk all in that space was pretty cramped. Plus we just recently invested in a much larger laser, so we needed the extra space.
RBS: How much does your service cost?
JL: Everything is project to project, so there is a lot of fluctuation in the quote. It depends of the material, quantity and laser time. If the art is intricate and detailed, that's going to affect the quote. In wood etchings, a piece of maple has a different price than mahogany.
RBS: Tell us about the new laser.
JL: It's being built in Austria, and it should be here in December.
It has to come by boat, because it's about 1,000 pounds. It has a 40-inch wide [opening] and a larger bed so we can do bigger projects that we can't do with our current laser. For example, if someone has a piece of furniture with a glass top, we could etch the glass.
With the wattage, we can cut through a half-inch piece of wood or acrylic.
RBS: How much did the business invest in the laser?  
JL: About $50,000.
RBS: Is it financed?
JL: We paid cash for it. As we've grown, we've been able to save up the necessary funds to make the investment.
RBS: Who are some of your clients?
JL: We've done work for [shirt maker] Ledbury and [consulting firm] Prophet. We most recently did work for the Broadway show "Spider-Man: Turn Off the Dark." Given my design background, I've got a great network of creative people that I love to collaborate with.
RBS: What did you make for Spider-Man?
JL: I'm not sure I'm supposed to say, but it was about 250 items. I think it was an internal gift for cast and crew members.
RBS: What's the longest you've had to spend on one order?
JL: It was probably the Spider-Man job. It was a few late nights. We made 250 pieces in six days.