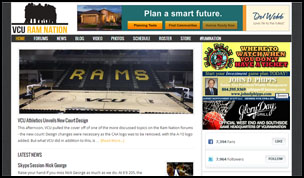 Four basketball fanatics are putting the full-court press on a website dedicated to VCU hoops.
Longtime friends and Virginia Commonwealth University alumni Mat Shelton, Matt Morton, Michael Hagan and Marcus Shrock launched Ram Nation about five years ago as way to share their thoughts about VCU basketball.
The site started as a podcast produced in Shelton's bedroom.
"At that point it was just four guys sitting in room with a microphone, talking about basketball," Morton said. "We had no idea how far we could take it."
Now the crew wants to grow Ram Nation into a hub for news and in-depth analysis, complete with audio and video packages, and they are relying on advertising revenue to support the business.
The site took off when VCU upset Duke in the first round of the 2007 NCAA tournament, Morton said. Interest in the program exploded, but Ram Nation was one of the only media outlets dedicated to covering the team full time, Morton said.
The university's athletic department gave press passes to the Ram Nation writers, and the site started offering video footage and recaps of all the games, Hagan said.
"That was a big step for us," Hagan said. "All of a sudden we weren't just fans sitting in bleachers taking notes."
When VCU marched through the 2011 tournament to the Final Four, Ram Nation sent at least one writer to almost every game. They competed with news outlets such as the Times-Dispatch and VCU's in-house athletic department public relations website.
The site brought in about 5 million page views last season, hitting a high of 1 million views in March. During the offseason, Ram Nation averages 390,000 page views per month. About 2,000 users are registered for the site's forum, which Shelton said is a big draw for the site.
Shelton said he plans to quit his job as a manager at a coffee shop in Carytown at the start of basketball season and focus on Ram Nation full time. Selling more advertising is a top priority.
"I'm not really a salesman by nature," Shelton said. "But the sports industry is a tough one to break into, and I'm trying to make this my career."
Six companies have signed on to advertise for the upcoming season, and Shelton said a few more contracts are in the works. (Advertisers include Baja Bean, Glory Days Grill.) The ads will bring in a total of about $6,000 a month from November to March. The four contributors split the revenue.
Ram Nation's counterparts include fan sites for programs at Virginia Tech and the University of Virginia. Will Stewart is the president of Sports War, a company that oversees TechSideline for Virginia Tech and TheSabre, which focuses on UVA sports.
Stewart sites sell annual subscriptions for about $50. Membership numbers vary depending on how well the teams perform, but his subscribers have steady at about 7,500 for the past several years.
"You have to find a way to keep your tech costs low and get your page views up," Stewart said. "If you have an active message board community, you're getting a lot of clicks without having to generate a lot of original content. That's when ads can be a good source of revenue."
Depending on how much ad revenue the site can bring in this season, Ram Nation might expand to cover other sports or other college markets, Shelton said. But Morton said the site has already exceeded his expectations.
"We wanted to make this a financially viable product, and we really [get] to have a great time talking VCU basketball with our best friends," Morton said.