The Pitch is Richmond BizSense's monthly advertising digest. Tell us about your new accounts and campaigns by emailing [email protected].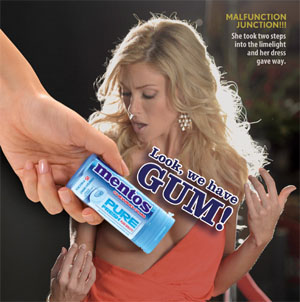 The Martin Agency produced four print ads for Mentos Pure Fresh that feature packets of gum covering R-rated body parts. The ads were targeted for specific magazines: A streaker for ESPN: The Magazine and Sports Illustrated, wardrobe malfunctions for celebrity magazines, and a more graphic derriere shot for Maxim. Click here to see the spicy ads.
"We're always trying to do something provocative for Mentos," Martin Agency Vice President and Creative Director Mike Lear told Business Insider. "Even when we're cheeky, there's still an innocence to Mentos, though," Lear said. "Like, don't look at that; look at this gum!"
Barber Martin Agency, a Chesterfield County-based firm, is handling the creative advertising for the McGeorge Toyota dealership.
The agency has been updating McGeorge Toyota's spots, included new commercials for TV, radio and websites. Barber Martin is focusing on incorporating a new brand strategy for McGeorge.
Spurrier Media Group (SMG), a creative media shop with offices in the Richmond and metro D.C. markets, has been selected as the agency of record for Colonial Shooting Academy, located at 6020 W. Broad St. in Richmond.
SMG is a firm of nine women, headed by founder and President Donna Spurrier.
Ed Coleman, general manager of Colonial Shooting Academy, said that an important goal of the company's advertising is to promote safe gun handling and to position Colonial Shooting Academy as a safe place to shoot and learn.