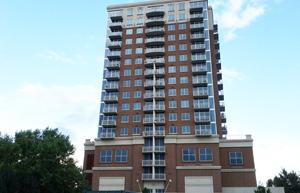 Residents of an upscale riverfront condo tower are suing the building's developer for allegedly shoddy construction.
The condo association for Vistas on the James, which abuts 14th Street and hugs the Haxall Canal, said in a lawsuit filed Sept. 24 in Richmond Circuit Court that Alabama-based developers poorly designed and constructed the $47 million condo building.
Vistas on the James LLC is the entity being sued.
The association alleges the following issues: a poorly constructed roof, rusty and unstable balcony railings, defective exterior lighting, a leaky water main, defective garage door motors, a poor HVAC system and bad plumbing.
The owners are seeking damages of about $870,000 for the repairs.
"The association has consulted with professional engineers and counsel and has a clear and convincing argument that there are structural defects to the building," said Andrew Elmore, a lawyer with the firm Chadwick, Washington, Moriarty, Elmore and Bunn who is representing the association.
Vistas on the James has 168 condos that initially sold for $300,000 to north of $1 million. There are at least six condos at the building for sale, with asking prices ranging from $150,000 to $1.5 million (The latter is the one Steven Spielberg stayed in.)
The project was developed by a firm called the Daniel Corp. Andy Andrews and Michael Campbell were the lead developers but split off from the company and formed Dominion Realty Partners while the building was under construction in 2005.
Dominion, which also developed the Residences at the Hotel John Marshall and the 188-apartment Manchester Place at Ninth Street and Semmes Avenue, lists Vistas on the James in its portfolio.
When reached by phone, Dominion principal Michael Campbell declined to comment on the lawsuit but said his company is not part of Vistas on the James LLC, the entity being sued.
According to Richmond city records, Manhattan Construction was the main contractor for Vistas on the James, which was completed in 2007.
There are also two vacant canal-front retail properties on the ground floor totaling about 2,400 square feet.