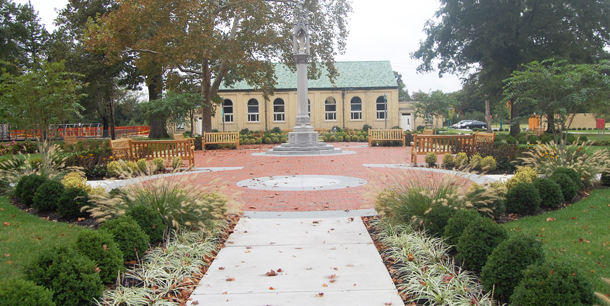 When St. Joseph's Villa decided to hold the first capital campaign of its 178-year existence, it aimed high.
The nonprofit children's home announced last week that it had reached its goal of $10 million, with some left over.
The campaign ended Sept. 28 having raised $10.7 million over five years, and that money has helped fuel significant construction at the 80-year-old campus on Brook Road.
The donation drive started as a way to collect enough money to build pedestrian walkways on the 82-acre campus, said spokesman Drew Melson.
"Students and vehicles used to share roads, which really wasn't safe," Melson said. "We wanted to produce pedestrian walkways and make everything more accessible to our handicapped residents."
St. Joseph's Villa began in 1834 as an orphanage. The organization today provides housing and education for homeless children and their families and day programs for people with disabilities. It has been at 8000 Brook Road since 1931. About 90 residents live at the campus. The organization also serves 2,000 individuals annually.
In addition to the walkways, the $10.7 million in capital covered construction costs on a 9,800-square-foot culinary arts center and a few other infrastructure upgrades. The organization also renovated the gymnasium and central garden.
"The garden is going to be a major hub for all of our residents," Melson said. "We're already using it to host outdoor programs we wouldn't have been able to otherwise."
Local contractor Kjellstrom + Lee oversaw the grounds renovations, which were completed this summer.
The entire renovation project cost about $12 million, said David Huffine, the organization's vice president for financial development. The Villas paid the remaining $1.3 million with cash it had on hand. For the fiscal year ending June 30, 2011, the Villas brought in $11.4 million in revenue, according to its most recent filings with the IRS. Its expenses for the same year were $10.1 million.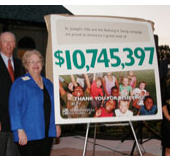 About 500 individuals and groups gave to the campaign. Huffine said contributions ranged from $1 to $1.5 million, and eight top-tier donors gave more than $500,000. About a third of capital campaign contributors were first-time donors to the Villa.
"I was pleased with the amount of new support we had for the campaign," Huffine said. "The community really came together to help us transform our grounds and make the campus a safer place."
The top donors to St. Joseph's Villa's capital campaign include:
• The Cabell Foundation
• The Harrison Foundation
• Louise Lewis Foster, Janet Lewis Sauer, Kenan Lewis White and the Flagler Foundation
• The Mary Morton Parsons Foundation
• Mr. and Mrs. E. Claiborne Robins Jr.
• Robins Foundation
• St. Joseph's Villa Foundation
• Carole and Marcus Weinstein