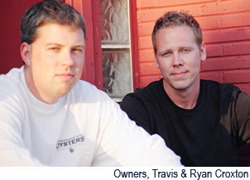 Richmonders will soon be able to get a taste of the Rappahannock River downtown.
Ryan and Travis Croxton, owners of Rappahannock River Oysters, are opening Rappahannock at Third and Grace streets.
The 10-year-old oyster business has opened two other operations this year: An oyster bar in Washington's Union Market and a tasting room at one of their three oyster farms in Topping, Va.
BizSense caught up with Ryan Croxton, a James Madison University graduate and Tappahannock native, to talk about his business and the new restaurant.
Richmond BizSense: You're opening a restaurant, but you also raise your own oysters, correct?
Ryan Croxton: We are first and foremost an oyster company.
RBS: How did you come by the oyster business?
RC: Our great-grandfather started Rappahannock River Oyster Company in 1899 and it ran all the way until 1992, when my grandfather died. Our grandfather told our dads not to go into the oyster business to go to school and get real jobs which is what they did.
In 2002, the government sent our dads a letter asking if we wanted to renew the lease we had on the river. They didn't want to mess with it, so they asked Travis and me. It was like $1 per acre, so we said sure.
I'd like to say we knew what we were doing, but we really just Google-searched "how to raise oysters."
RBS: How did you get from online searching to starting a business?
RC: It took us a year and a half to grow them to the point of being able to sell them. And we still really didn't know what we were doing, but we knew we wanted to start selling them to restaurants. We said, "Why not try selling them to the best seafood chef in the country?"
So we called Chef Eric Ripert of La Bernadin in New York City. Of course you never get to talk to these guys we got his assistant. We gave her the pitch, told her our story. I don't know if she thought it was cute or what she thought, but she invited us up.
Chef Ripert tried it and said he wanted to buy them and asked how much. We said we didn't know what to charge. He basically walked us through the entire process and told us what he thought would be a fair price.
RBS: And the business took off from there?
RC: When we started selling them to Ripert, we were producing 150 per week. Now we're producing 80,000 to 90,000 per week.
RBS: Why did you decide to start a restaurant?
RC: People were requesting to come out to the farm to see what we were doing and try the oysters. So we opened a tasting room in Topping. We opened another one in D.C. this year, and that's more of a traditional raw bar.
For the Richmond location, we wanted to do a more traditional seafood restaurant. We're just the suppliers. We wanted this to be a stage for our chef, Dylan Fultineer.
RBS: What's going to be special about your restaurant?
RC: We've been developing this business for 10 years, and we've got a great distribution network. We can take our oysters directly from the cages to the restaurant. But we've also developed relationships with other providers.
We're going to offer things like whole scallops. Ninety-nine percent of scallops served in restaurants are out of the shell, because they only live for three days out of the water. But you can do some amazing things with them whole. We'll also do fresh shrimp. Most shrimp has been frozen at some point.
We're going to do a rockfish ceviche. Its a local fish, and people might not realize that you can serve it in a way that's usually reserved for other kinds of fish.
RBS: Why did you decide to open your restaurant downtown?
RC: We're fast followers on this one. Jason Alley opened Pasture in that neighborhood, and he's been doing very well. We like that neighborhood. You've got 525, Pasture and Berry Burke all in the area. I think that neighborhood is really turning around.
We didn't want to go somewhere that's well established. As much as I love Carytown or Shockoe Slip, our whole gig has been about restoration. So we wanted to go to an underdog location.
RBS: When are you going to open?
RC: We're a month behind. So we're shooting for mid- to late November.
Read about another local oyster company: Sticking his neck out
If you're interested in the restaurant industry, make plans to attend BizSense's Kitchen Confidential event Thursday for a lively evening and wonderful networking opportunity with some of the top names in the local food scene.