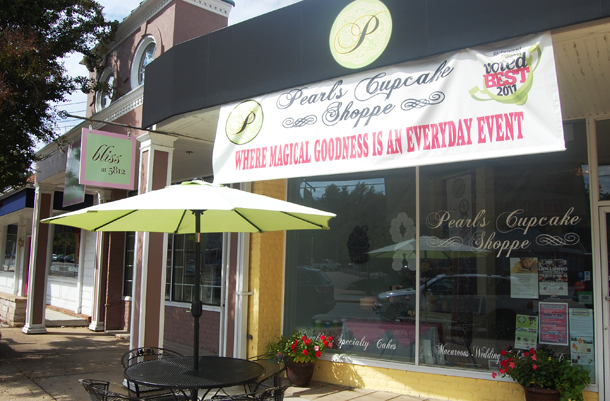 A Richmond cupcake shop is betting that Charlottesville has as big a sweet tooth as Richmond does.
Pearl's Cupcake Shoppe, a bakery on Grove Avenue, will open a second location in Charlottesville in mid-November. The new store, called Pearl's Bake Shoppe, will sell the same variety of baked goods as the Richmond location: a menu of seasonal and everyday cupcakes as well as cookies and cakes for special occasions. The new location will have more space to display all of the product.
The new 1,800-square-foot shop is at 711 West Main St., within walking distance of the University of Virginia.
Pearl's is also bursting at the seams in Richmond.
Co-owner Laurie Blakey, who will head up operations in Charlottesville, said the bakery sells an average of about 1,250 cupcakes a day at $2.75 each.
Demand is so high, Blakey said, that the company had to lease the basement of its building on Grove for more space. The move will double the square footage to 3,200 and give the shop extra space for tastings and storage.
"It got to the point where we were going to have to move or expand," Blakey said. "We just completely maxed out the space."
Blakey said the bakery had to completely tear down and rebuild the Charlottesville space, which previously was a furniture store. The business paid for the $60,000 in renovations out of pocket.
Blakey said that, between college students and a nearby mall, there should be enough foot traffic to keep the shop busy. She's brought samples to Charlottesville to test the waters.
"We've had an incredible response so far," Blakey said. "I've brought a few deliveries to the area and heard nothing but positive feedback."
Blakey and co-owner Laura Condrey plan to start with about seven employees at the new store and eventually build up the staff. The Grove Avenue location, which opened in March 2010, has 23 employees.
"Opening this shop in Richmond was a more daunting task," Blakey said. "We started with nothing. Now we have a viable business, a place that we can make deliveries from."
Blakey came up with the idea for Pearl's after she left the real estate industry about three years ago.
"I wanted to do a bakery because you get in early, you get everything done, you go home – or so I thought at the time," Blakey said. "It's not actually that simple."
She said the cupcake business is a very competitive industry. To separate themselves from the half-dozen other specialty shops in Richmond, Condrey said Pearl's uses natural ingredients and bakes fresh cakes every day.
"We're very attuned to the customer's needs," Condrey said. "If someone wants sugar free, we can do that. If they want gluten free, we can do that."
Condrey, who will run the Richmond location after the new location officially opens, said she hopes Charlottesville will have as big of a turnout as the Richmond shop has had.
"When we opened, we were inundated with customers," Condrey said. "We were hoping for a good turnout, but there was a line out the door. It was like the heavens opened up."