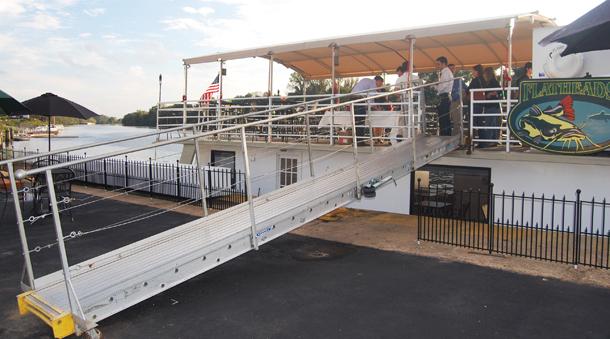 From the depths of the James River comes Richmond's newest restaurant.
Matt Gleason and Anita Roberts are launching Flatheads, a floating restaurant aboard a 78-foot yacht that a year ago was on the bottom of the James River. Flatheads should be open by the end of the month.
It's the second attempt in two years to turn the boat, which is named Celebration and owned by local developer Louis Salomonsky, into a restaurant.
Salomonsky brought Gleason and Roberts on board after plans by two other restaurateurs to open the vessel as Mallory in summer 2011 were thwarted when the boat sank at the hands of Hurricane Irene.
Gleason, a New York native with a degree from the Institute of Culinary Arts in Pittsburgh, previously worked in the hotel and catering industry.
"I just thought, 'How could I not take this on?'" Gleason said. "It's Richmond's first and only floating restaurant."
Gleason and Roberts will manage the new venture and lease the boat from Salomonsky. The restaurant is within walking distance of Rocketts Landing at 3125 Wharf St.
They're planning on a grand opening ceremony in the spring, once the weather warms up and they've had a chance to work out any kinks.
"Obviously, it's a little strange we're opening a boat restaurant so close to winter," Gleason said. "If this was in a building instead of a boat, I guarantee we would be operational by now."
After the yacht sank, Salomonsky called in an expert to raise Celebration from the bottom of the river. The yacht was salvageable, but required extensive repairs – everything from the woodwork to the air pumps needed to be replaced, and some eels had to be removed.
"There have been so many hands on this boat, it's hard to keep track," Gleason said.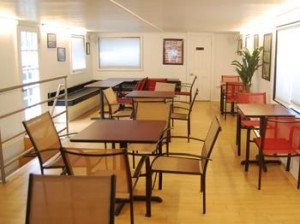 Celebration was still a shell of a restaurant when Roberts and Gleason got their hands on it in June. The pair did almost all of the renovations themselves to cut down on costs. Family and friends pitched in to help paint and haul in furniture and kitchen equipment.
"I'm not exactly Tim the Toolman, but I had to learn how to be," Gleason said.
Gleason said they were able to keep design and construction costs under about $20,000. Several private investors financed the rest of the project.
When the restaurant opens, Gleason said he wants it to be a place where anyone can feel comfortable grabbing dinner or a drink. They will serve a variety of seafood and grilled entrees.
"You can be wearing a bathing suit and sandals, you can come here straight from work," Gleason said. "We really just want people to come and have a good time."
Roberts said she hopes Richmond will have at least a few more weeks of warm weather before winter sets in, but they're prepared either way. Flatheads will offer indoor, heated seating on the second deck and is in the process of installing mesh paneling and heaters on the upper deck.
She said the upgrades will give customers a chance to enjoy the river, even in less-than-ideal weather.
"We really want people to understand what this river means to Richmond," Roberts said.
The boat won't actually be traveling down the James, at least in the near future.
Flatheads will stay put during service until it works through the permit process with the city, Gleason said. Permitting hasn't been easy, as the city isn't used to dealing with floating restaurants, he said.
Instead, Gleason said Flatheads will try to draw customers by showing movies and football games on a big screen TV that will be set up in the parking lot.
"Richmond really needs a place where people can come, sit outside, drink beer out of a can and just watch a game," Gleason said. "We want to be that place."