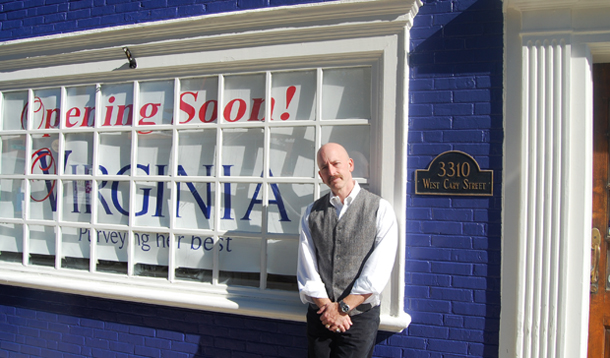 Carytown's newest retailer is betting big on the Old Dominion State.
In two weeks, Darryl Flick plans to launch O'Virginia, a store dedicated to selling as its name implies all things Virginia-made.
Taking shape in a 2,400-square-foot storefront at 3310 W. Cary St., O'Virginia will sell everything from pottery and woodwork from local and Virginia craftsmen to vintage postcards and books about the Commonwealth.
"Yes, we'll have hams and peanuts and some of the usual Virginia products," Flick said. "But it's going to be more than that."
The main goal of the shop, Flick said, is to challenge people to think about where their products are coming from and to support local jobs.
"I know not everyone has time to run to the farmers market on weekends, and it can be easier to run out to a big-box store," Flick said. "I want this to be an alternative for Richmond shoppers."
The building was formerly a home decor and furniture store, so some of the infrastructure was already in place. Flick financed the rest of the construction and bought the first round of inventory out of pocket, investing close to $60,000.
"Is the market amazingly slim for this kind of store? Absolutely," Flick said. "I'm scared to death. But it's my gamble. It's something I'm passionate about."
He said he's cut down on costs by keeping his staff small. O'Virginia will have one full-time salesperson, and Flick said he plans to hire a few part-time workers to get through the holidays.
"This shop was the result of a lot of soul searching," Flick said.
Flick, 47, spent 12 years in Richmond before moving to San Francisco. He has a background in nonprofit event planning and marketing and worked for a biotech company in California before moving back to Virginia two years ago to reconnect with family and friends.
He took a few part-time jobs but said he struggled to find something more permanent. This summer, Flick said he started toying with the idea of becoming his own boss. He said he remembered some of the East Coast products he enjoyed when growing up, and the idea started to form.
"Richmond gets undersold," Flick said. "There's more to us than being the shadow of D.C."