Another local commercial real estate firm has sprung up, and this one has a singular focus: tenants.
Cole Clarkson, Christina Jeffries and Andrew Gibb in April launched a brokerage called 7 Hills Advisors with an office in the West End.
The business is eschewing the landlord representation and property management functions typical at most firms to focus on tenant representation.
Before launching the firm, Gibb was working as a consultant after being one of the founding partners of Commonwealth Commercial in 1996. Jeffries came to the firm by way of REIT Parkway Properties, where she had worked with Gibb and dealt with Clarkson, who was working in the area as an independent broker.
When Parkway pulled up stakes in March, Jeffries, Gibb and Clarkson decided the time was right to start the firm, which is named for Richmond's seven "official" hills. (We'll save you the trouble: Union Hill, Council Chamber Hill, French Garden Hill, Navy Hill, Gambles Hill, Shockoe Hill and Church Hill.)
BizSense caught up with the team to see how things were going six months into the venture. Below is an edited transcript.
Richmond BizSense: How did you come up with the idea behind 7 Hills?
Andrew Gibb: We saw a strong need for independent, non-conflicted representation. Traditional commercial real estate firms derive a majority of their income from landlord representation and property management. So when you're representing tenants, there is an inherent conflict of interest involved in the leasing process.
When we come to the table, we don't have any conflicted baggage.
Cole Clarkson: One thing I'd like to point out is that landlords have representatives looking out for their interests, whether it's an in-house agent with a REIT or a third-party brokerage. I think the tenants deserve representation on their behalf as well.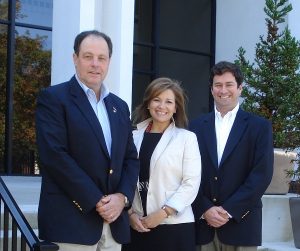 Most markets the size of Richmond have a firm or two like ours that specialize in tenant representation. We're bringing that to Richmond.
RBS: So without the REIT and landlord backing, have you had trouble identifying clients?
AG: Between the three of us, we have almost 60 years of experience in commercial real estate. Almost all our business comes from personal referrals from people we've done business with in the past.
RBS: How does the process work for tenants looking for new space?
CC: Typically an existing tenant will have a lease that's expiring, more or less, in 12 months. At that point, they will go through the process of interviewing firms to represent them as they approach lease expiration. So what they'll be doing is comparing those lease options to renewing where they are or moving.
Ideally, you want to set the stage for the client where landlords, including your current landlord, are competing for your business.
RBS: How do you make money?
CC: Just like any other brokerage the fees are built into the transactions and typically paid by the landlord.
RBS: How many transactions have you completed since launching six months ago?
AG: About a dozen. We'd like to be in a place where we're doing 60 to 70 per year. I think that's where we're headed.
CC: Our business is not about volume, which is unlike some of our competition. We think doing strictly tenant representation delivers a superior level of customer service. The time and energy we put into each transaction, we feel like it's unmatched.
RBS: Do you plan to grow, or are you happy with just the three of you?
AG: Never say never. We just got started, and we're having some success. There may be room to grow, but we'll have to see.